Good Mourning
October 7, 2013
I was at home alone. I remember it in the dead of night, on the brightest day. Now what I just said may feel like a contradiction, but the tale itself is not. I was just a young man, learning the right and wrong of this strange world. If there is one phrase that described my entire outlook on life, that phrase was "Good Mourning." Why do I say "Good Mourning?" Well, let me assure you; there have been many instances in my life where that has happened. We walked through the gloomy rain and rumbling thunder one evening, holding hands and smiling. Everything seemed so peaceful. No one could tell us what to do or what to say. It was just us two kids. After a long, warming stay at her house, she kissed me goodbye. Little did I know, that would be the last time she would ever offer me her princess's kiss. One week later: that's when all hell broke loose. She lay on her bead…unconscious. A beautiful spirit and person; out cold. Her face and body were pale and rambled incoherently.
"Will she be ok?" I asked her father, almost terrified.
"I don't know. She overdosed on her nightly medicine," he replied bluntly.
For almost a week, I couldn't bear the thought of life without her. I couldn't imagine not hearing her angelic voice, her warm, toasty hugs, and her lively, adorable laughter. For days, I paced in my room, anxious and blood-driven. All of a sudden, I heard a ring. It was my phone.
"Hello?" I asked. Then, I got the biggest relief of my life. It was her!
"I will be just fine," she replied happily.
Our happiness and young love for each other resumed, but little did I know it would be short lived. Then came the night I shall never forget. I came to her home, she sat in her bed sobbing. Her face was bright red and her eyes tearing with depression. As I gently stroked her hair, she shoved it off of her.
"I HATE YOU!" She screamed at me. I did nothing wrong to make her even think that.
"Talk to me after today, and I will kill you," she snarled. Her voice was pure carnage.
I ran from her house to my car and drove faster than the speed of light. As I drove, the thought of her wanting to harm me was so baffling and confusing, I could not even wrap my mind around it. So, if you're still wondering why "Good Mourning" means so much to me, it is because I feel anyone else can have this experience. I now yearn for her back. I lust for her. I need her. And I love her. The single and selfish act that she chose to do, has given her a trip beyond the grave, a double persona, and a life in hell.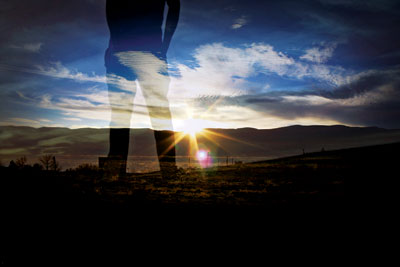 © Ezekiel R.