Pretty Girls
September 13, 2013
I sat in the corner of the gym, wrinkling my nose and brushing the sweat off my forehead. All around me the world spun and jumped, and I was relishing my moment of stillness before my friends found me and I would drag myself back to the dance floor, avoiding the age old question, Are you alright?

I hated coming to dances. I hated the smell of sweat and middle school angst, I hated the under-aged, self-conscious dancing of sixth to seventh graders, and I hated the way all the other girls looked at me because I refused to wear glitter eyeliner or tight, black spandex.

I wondered what it was, that magic that radiated off of those lucky few girls, that made everyone around them think they were pretty even if they were submerged in makeup and fake giggles and refusing to resurface. Why could I not be pretty if I was wearing a button-up shirt or if my hair didn't reach my shoulders? Why were you only interesting if what you had to say was running around inside your head instead of spilling out of your mouth. I didn't understand why everyone thought there was only one type of pretty that could fit under one gymnasium roof.

I ran my tongue over my braces and tapped the buttons on my phone so it looked like I was texting. I looked at my reflection on the dark flip-phone screen and wondered why I couldn't be pretty.

It's been exactly two years since I danced around in that gym like a lunatic and it's been eleven months since I cried in my bathroom because I had so many things to say and no one to say them to. Since then I've learned how to stand up, and look at all those girls who look the same so they can feel special. I let my thoughts fly through my head and build beautiful pictures, creating amazing things no one else can see. I push my short, scarlet hair behind my ears and I take in a deep breath, because my jeans have room for my waist to fit in between them.

I walk away from the cake-y makeup and the spaghetti-strap tops, feeling beautiful because that's what I am, even if no one else can see it.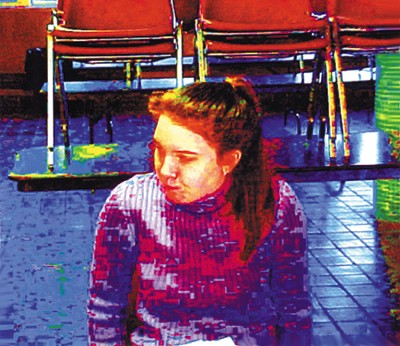 © Debbie B., So. Weymouth, MA