You've Changed
May 31, 2013
Do you see me right now? Do you even hear the way you're speaking, what you're saying? What happened to you? Six months ago, you left as the same brother that I've known my whole life, the same brother I made a giant card for after your graduation, the same brother I look up to for a reason I don't even understand, the same brother I always try to impress. You weren't a super hero to me; you were just… my brother, who for some reason I always stood up for, and I always strove to be.

But that's not you anymore. You've changed. The brother I knew wouldn't have spat words dripping with acid about our parents. He wouldn't have spoken to me in a condescending voice, like I'm some stupid six year-old you are teaching to build something that's not at all hard to figure out on my own. How could you say such things? Each insult is a knife plunged deeper into my heart, and you're the one beating the rock on the handle, pushing it to greater depths. I'm stuck. I'm stuck between two people who I love the most, each hissing and spitting at the other. What am I supposed to do? I want to believe you don't mean it, but I know you do, with every fiber of your being. I want to stand up for her, but I know you'll turn your venom on me. I don't want us to fight. So I try to take the long way around; you won't budge. So what am I supposed to do? What CAN I do? We used to be so close, but now? It's like I don't even know you. You have no idea how much that scares me.

You've changed. And maybe I have, too. You don't think I can stand up for myself, or think for myself, but I can. I will. If I hadn't walked out that door, tears you didn't see burning behind my eyes, the last words being, "Quit talking like that." maybe you would've seen how I have changed. I can think for myself. And I can see how independence has gone to your head, just like I can see how much this means to our parents. And by the way you speak with such a passion simmering beneath your words, I can see you've held this in for a long time. Maybe I should've noticed it sooner, but when I think back on it, there's nothing I could have done. You're too stubborn to change, anyway, even though you somehow managed it during those six months away.

Honest to God, I should've stayed in that room and told you to get over yourself. I should've told you that our parents owe you nothing, and helping them is just what you do, what you've always done, up until now. I should've told you to quit whining and grow up. I should've told you to take it back. I should've told you how much your words hurt me. I should've told you how much you mean to me. I should've told you that you've changed….

But I didn't. And now it's too late for me to tell you, anyway.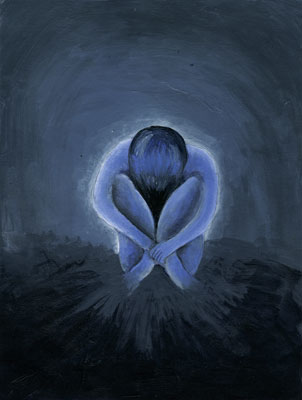 © Becky F., Sacramento, CA