the musings of a loving tryhard
May 23, 2013
Somehow, this year has been different. I can't quite put my finger on it.

I think it's that this year I have learned what a privilege it is to be remembered.

All around me every day, lives are being lived. Lives unimaginably different from mine. People with different names go home to different houses with different fathers and different circumstances.

Now, I know what you're thinking: 'Thanks, Sam, for stating the obvious'. But think about it- really think about it! While people go about their lives, they see hundreds- even thousands- of different faces every day. They watch- and live- hundreds of stories. Many of them are forgotten: the drive to school, the walk to lunch, the nod to a friend in the hallway, maybe the wierd chick who smiled at them for no reason that morning. (That, by the way, would be me.)

But anyway- all these stories. And if you can one day walk into one of them, it's kind of a miracle. Out of all the places you both could've been born, all the time periods each of you could've been born into, all the places on the Earth you could've been...

...for a while, all of that coincides perfectly. Your lives are tangent on each other.

There have been billions on billions of people that have lived on this Earth. But you two, even you three or four, are all alive at the same time, and in the same place, both looking at the exact... same... thing. Each other.

And you know what the chances of that are? One in billions.

So you're there, and you form a story with them. So what? I just said you forget a lot of your stories, right? Well, what if they end up remembering yours? What if you mean something to them? And then they carry your story with them for thousands of days, and it travels all over the place? And even if they never tell a soul about it, it's still traveling because they still remember you. You have a legacy to somebody, somewhere, sometime.

And that's a privilege. It's a miracle. It's one in billions.

That's it. See, now my finger's on it.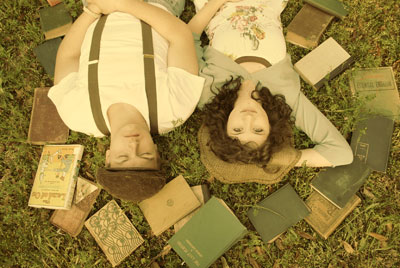 © Gabrielle A., Pensacola, FL