PERSONAL NARRATIVE FAMILY INTERVIEW
May 1, 2013
I was born and brought up in Dubai, but I am originally from Goa, India. I had interviewed my father, Mr. Milagre Jannario Gracias. I chose to interview him because he usually comes up with his fun experiences so I thought it would be perfect for the essay.
My dad was named Milagre as the name means miracle in Portuguese. His father's name is Caitanho Domingo Gracias and his mother's name is Ariena Gracias. He has 5 siblings' altogether, four sisters and one brother. They are a total of 6 children. The sisters' names are Lorna, Denira, Tereza and Myra. The brother's name is Tom Levino Gracias. My dad was born on 19th September, 1966 in Chaudi, Canacona- Goa that is located in India. He studied in a catholic school. He took classes that included English (first language), math, social science, science, Hindi (second language), French (third language) physical education, art, music, dance and drama. He loved math and science. He fell in love in the year 1985 with my mother, of course! They met each other in that year at a relative's wedding. Later, when they developed their futures to support a family, they decided to get married on 14th August, 1994. They knew each other and were in love for complete 9 years.
He described the lives of his grandparents as very difficult. They had to go through a lot of hard times as there was not much advancement in technology. Even as kids, they did not have toys to play with as at that time, it was too expensive. My dad can remember a lot about his grandmother, who apparently is the oldest member he thinks of most of his time. Her name was Luci Aseslina Coutinho. She was very adventurous and usually spent most of her time discovering nature.
When he was a child, there was not much advancement in technology. Things like iPods, iPhones and computers were not in many homes during those days. The only common electronic devices were radios. Back then, people did not have a luxurious life.
My dad remembers many things when we were kids. What amazed my dad the most was when I did a birthday card for my mom when I was only 2 years old.
Since a child, he had been living in Goa, located in India. He moved to Bombay, also located in India and got a job at TATA, a multi- national company, where he worked for 2 years. He then shifted to Kuwait where he worked at Karafi National Company. He was in Kuwait for 5 years. Then, he shifted to Dubai where he had lived for 15 years. Dubai was also my birthplace. He had his own business company called Abdul Rahman Company. Currently, he is running his own business in Muscat, Oman. My dad and mom are business partners of this company. He wishes to stay with his family in USA.
As a child, he wanted to be a sportsman as well as a businessman. He was a star in table tennis. As his first job, he worked in administration. He worked was a purchasing manager, general manager and now currently, he is a managing director of his own company. As his urge to learn the business industry kept growing, he felt his passion for work had no bounds.
The most beautiful place he ever visited was Rome, Italy. He described it as very romantic and beautiful. He also loved visiting Australia, Spain, Portugal and Singapore. The longest trip he had been was to Spain, where he lived for two months. His special vacation was when he visited Singapore as it was during my parents wedding anniversary.
The person who had the most positive influence on his life was his wife, my mom. Her name is Fleena Gracias. She is always there for him, be it in the office or at home. She supported and helped him in many ways.
I learnt from my dad that life can be very tough and it does not always appear as easy as it seems. He comes from a family which believes in hard work and being successful. He believes that we can accomplish anything we want as long as we put our heart and soul into it.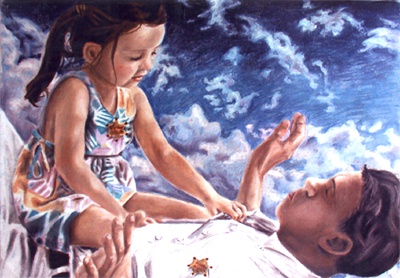 © Meg Sullivan, Andover, MA