Treats for Troops
April 13, 2013
**All names are substitutes for real names to protect the identity of the people mentioned.


Since sitting down with Ms. Alstat on September 9th, Treats for Troops has come a long way.


On that first meeting Sydney, Ms. Alstat, and I discussed the date, time, where, and places to put donation boxes.

The next day Sydney and I shared this information with our third partner, Eric, and then we started on designing the flier, writing the radio spot, and creating the Facebook page.

After Sydney made the flier, Eric wrote up the radio spot, and I created the Facebook page, the next thing to do was to get all of them approved by Ms. Alstat, and then we would take off.

After a week or two of waiting Ms. Alstat got our flier and radio spot back to us with all the correct information on them, so all we had to do was get them approved by administrative.

While we were waiting for administrative to approve our flier I went online and found items that the troops wanted and needed, and Pam Baker confirmed it. "I can tell you some of the items that were the biggest hits - any kind of energy drink or energy drink mixes, ground coffee and coffee filters, blank holiday cards, beef jerky, dried fruit, gum, trail mix, basically any kind of individually packaged, non-perishable snack food or candy, chapstick/blistex, [and] handheld games."

On September 26th, my partners, Sydney and Eric, went to a second meeting with Ms. Alstat to see where we could put the bins, and get the outline of the letters to ask permission to these companies. Some of the following stores were, CVS, Wal-Mart, and Great Value.

Eric did a great job in going around and asking if we could put donation bins in the stores, but most of the companies said no. The group got busy with radio spot.

We sent out three emails, one to hot 101.9, one to z95.1, and one to 103.1, and we only got one back. 103.1 agreed to put it on their community calendar and to announce it the week before the event took place.

On October 14th Sydney and I participated in a committee meeting in 4-H club to work on the project with a fellow classmate Juliet Karnes, together we found a photographer, decided on a time to go decorate, how we should decorate, and what fall treats people were going to donate for the people who brought in supplies for the soldiers.

Finally after weeks of waiting, the group finally got the permission to put up the fliers around the school. With only approximately thirty copies we had to be careful of how many we put up in certain parts of the school.

On October 16th the group and I sat down and brainstormed about five questions we should ask our interviewee, Pamela Baker, who has been deployed twice over seas as a Biometric Enabled Intelligence Officer for Task Force Biometrics, Combined Joint Interagency Task Force 435. She also deployed to Kuwait as a soldier from April-October of 2000 during Operation Desert Spring. At that time, she was an Arabic translator.

One of the questions was "Were you there when packages came from the U.S.? If so how did it affect your time overseas?" and her response was, "Mail call was always the highlight of our days; it was really nice to know that people were thinking of us."


About two weeks ago I told someone that I was doing this project and they asked, "What good will that do? There are still many more people overseas that you won't be able to help." And I asked Pam if it really was worth the time and effort to get only a few items, and she told me, "Yes, it was defiantly worth the time and effort."


I hope that this year Treats for Troops will be successful and that we will be able to continue it for years to come, it feels nice to give back to your community.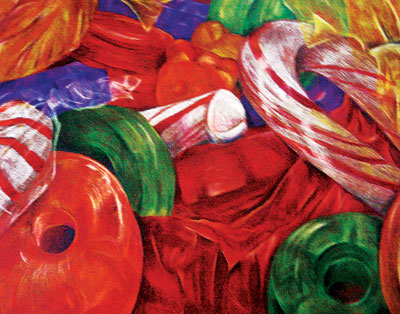 © Amy Z., Edmond, OK