The Day The Magic Died
April 24, 2013
Everyone has that best friend at some point in their lives, that friend that helps you through everything. The thing that most people don't do is imagine them gone. The thing I had to do was just that, I had to see my best friend leave. I knew it was there, that chance…we all did I guess but we never actually thought it would happen. We never thought B would get cancer again and we never thought so soon.
As the first day went bye it was just a normal school day no one noticed anything. Nothing but my classmates and their usual superfluous chatter. No one noticed she was missing no one but C and I, we both knew something was wrong, and I could see it in her eyes. I hurried out of class that day; I grabbed C by the arm, and pulled her into the girls room. There was this awkward silence that I did not know how to break so she did it, and I remember the words exactly but they were just whispers. "She isn't here!" she said "I know I couldn't concentrate all day!" Those were not the words I wanted to hear, I just wanted to know she was okay.
B had a checkup that weekend an important one, we knew if she wasn't at school it was bad news. We called her after school that day, her mom answered "Girls I'm sorry I have some bad news, the cancer is back. This can't get around school I don't want people to start sending us gifts or whispering when we walk by, we need this time as a family. Do you girls understand?" "Yes" we answered then we hung up, it was all too scary.
After a while the school got involved explaining what was happening to the kids, starting fundraisers to try to help out, it was nice but it did not lighten the mood. Every day it scarier even though we were there by her side. She had surgery to have it removed but it was all too much. The treatments were not working but it was time to get back to school work, B got a tutor and we went back to school. The student interest flourished people gave gifts and sent cards while we sat in the background.
The following months were tortuous, people coming to give her get well cards, us going to basketball games to try and cheer her up. There was a point where we got to minding ourselves and only visiting on weekends. I never really knew what was going on, it was a busy weekend I was home by myself a lot that weekend, and it was the beginning of summer. I was having a bad day already but I didn't know why, it was just this funny feeling in the pit of my stomach. My sister and my mom were outside, jumping rope or gardening, it was sunny outside.
I was on my computer checking Facebook when I saw something I recognized, her name. It was next to something my mind wouldn't let me read, because it had to be a fallacy. It said R.I.P. I was so confused! How come nobody called me? My body froze in place, I could hear my heart thumping, I slowly got up, put my computer down and walked outside in a haze. My mom was bend over a flower bed and my sister was using one of those skip it jump rope things. My mom noticed me and glanced up, then slowly got to her feet, my sister stopped what she was doing. "What's wrong?!" said my mom I kept walking until I got into a hug, "It's B" I whispered into my mother's ear. She immediately froze before her mommy instincts kicked in and she started explaining carefully what had happened to my little sister C, a minute later we got a call from a woman we were in girl scouts with named L, she was crying.
The next few weeks were funereal no one talking, moments of silence, lots of crying, hugging. We had so many memories and we shared them with every one C sung "somewhere over the rainbow" and the service and I helped them release butterflies in the cemetery. It was all beautiful for a beautiful girl and its two weeks I will remember forever.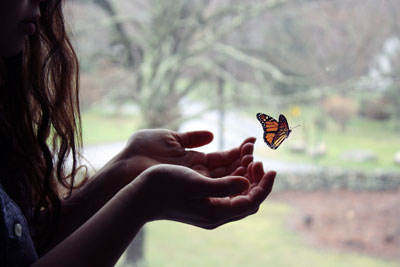 © Sandy H., Woodbridge, CT