Alzheimer's
April 11, 2013
Alzheimer's. A word I could neither understand nor pronounce correctly until I was about eight years old. I never would have thought I could lose a loved one like this, not this horribly. I loved my grandma very much, but never really appreciated her until she was gone. Not dead, just not here.
When I was told that my grandma had this disease I was extremely confused. Even after someone explained what "that big word" was, I still didn't understand very well. Alzheimer's is a progressive brain disease that causes deterioration of the memory. It may also cause mood swings, changes in personality, and lead to the inability to function or perform physical activity correctly. This disease is deleterious and cannot be prevented or cured; the cause is unknown.
My grandma was sent to a rest home, kind of like an infirmary, where she would stay and be taken care of. At first I went to go see her all the time. She seemed pretty normal and was always glad to see my mom, Grandpa, and I, however, I soon began to notice changes in her. She would experience mood swings where she would become livid or depressed. Sometimes she would forget my name or where she was. She eventually forgot me all together.

It's a harrowing experience to know someone for so long and then see them like that: miserable, pitiful, even childlike. She knew me since the day I was born and suddenly couldn't even remember who I was, or even who she was. The woman who taught me how to tie my shoes now couldn't even tie her own. She eventually began to refuse to talk or eat. I became ambivalent about going to visit her. The situation in its entirety was disconcerting and painful to see, so I eventually stopped going.

I felt very contrite about not going to see her. Was I a bad granddaughter? What would she think or say to me if she knew? After so long of seeing the "new her" and then suddenly not even seeing her at all, my own image of her began to fade into nonexistence. I felt that I owed it to her to remember how she was before and to keep my memories pure because she couldn't do that herself. But which was more important: physically being there for her during a time of need or trying to keep her alive in my memories?

I never had an opportunity to respond to that question. I couldn't determine how to assuage my guilt for not visiting her or how to keep her previous image in my memories. She died before I got the chance to make any decisions; I never even got to say goodbye. Even though she had died, depression did not conquer me, relief did. Yes, I missed her very much, but she was gone before her death. That's what Alzheimer's did to her; it took away the real her and replaced her with someone empty and drained. I felt relieved that she didn't have to experience this disease anymore and that I didn't have to witness her vulnerability and pain anymore.

Now that I'm older I understand a lot more about everything that happened. I now realize that she would not have been angry with me because I ceased visiting her. She would not have wanted me to see her like that because I was so young. There was nothing I could have really done to help her. The important thing to do was to keep the healthy image of her in my mind. I don't want Alzheimer's to define who she really was; she would not want that either. She would want me to remember how kind, perseverant, and strong she was, so I do.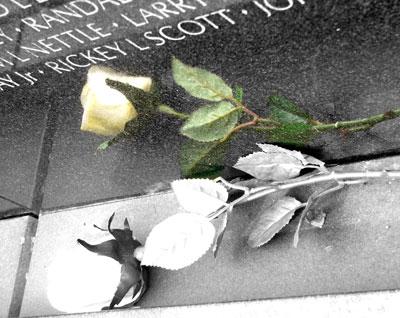 © Kimber E., Yorktown, VA