Good Deeds Have Effects
January 28, 2013
Ghe other day I saw a large group of people standing outside of a Game Stop. It was five hours before the newest video game came out, 28 degrees. One of them had been out there for three hours before. From some odd reason I had a sudden urge to make hot cocoa and bring it to these people. When I got home, I told my mother. She was not at all thrilled, giving some sort of lecture about how these people did not need it, if they had the money for this $60+ video game, they had enough to afford hot cocoa, that if they had that much money to be able to afford such a game, not to mention the game system, then they should be doing something with it useful. I told her that was not the point. It was a nice deed, something that if someone did for me than it would make me very happy. She was not convinced. I still am. Just because they have the money for the game does not mean that they should get it, but it does not mean that they shouldn't. None of those people waiting outside looked like they did not work for the money. Just because I have the time… and sort of the money does not mean I should make and give them hot cocoa, but it sure does not mean that I should not.

Doing nice things is not just for people who need it. That girl in the hallway who dropped her book does not necessarily need you to help her, but it sure would not hurt. In fact, it might make her day. That kid in the lunch line in front of you a quarter short does not need that quarter, they will survive without lunch, but I bet that they would appreciate it. They would probably be more productive if they were not thinking about that gnawing in their tummy. This is different from a question like your friend just got kicked out of their home because their mother is a nut. You have room. You should give it, they do need it. You helping in this situation should not be a choice.

The people in my family have always been generous people. That is not a proud statement; in fact it should be a downfall in some cases. I spent my childhood around Christmas making little canes from beads and other assorted crafts to go to the nearby nursing home to give away. I would spend time doing karaoke or playing balloon volleyball, talking with the old folks and so on. I did not know the impact then, but I can understand now. Since then we have always opened our home to the neighborhood children with bad homes, not knowing how much it would matter in the future, again I can understand now.

And now I find myself giving my time and in some cases, my sanity… to Cards for Courage, sending thousands of cards to soldiers stateside, this year 2,200 cards to Fort Hood and Camp Lejeune. It turned from a simple idea coming from a Hallmark commercial to something I found so big and something that was terribly time consuming but so far rewarding. Just to imagine so many people getting these cards and smiling, these cards being all so different, from simple to extravagant, hand made and colored on, and each has a handwritten personal message and picture. Something special that these people can know some stranger out in the middle of who knows Iowa is thinking about them and caring.

We are not rich; I live with my mother who is on disability which is far below the poverty line. We had a house, but went bankrupt and moved to an apartment with unruly neighbors. The man across the hall sold drugs, the family with four kids lived downstairs, and they were never quiet. The man who lived upstairs, we called him Tarzan. I never met him, never saw him, but his exercise equipment and female friends seemed to make sure I never was able to sleep. When he moved two women moved in, coming in drunk late at night making a great amount of ruckus, not to mention the squeaking in their bedsprings.

So we did not make friends easily there. Yet after a few months new tenants moved in, both were mentally challenged but just the sweetest people. I baked them brownies and colored them some pictures to put on their fridge, and they were so happy.

Then there was a girl who lived in another nearby building. Her name was Lexi; her mother was no less than a struggling ex-drunk, who would put her foster care in a few years. She would come over and stay over as long as she could before her mom would call, ranting on the phone. When my mom and I moved across town, she still found her way over, needing someone to talk to when she came back from foster care and was dropped back in with her mother.

The day came when her mother just plain kicked her out. We were broke; we lived in an itsy bitsy duplex, two bedrooms with three cats, limited food and money. We took her in. My mother would sleep on the couch in the living room and Lexi would take her room. We welcomed her that was all she needed. My mother took her to get all the paperwork and we got everything figured out despite a couple of weeks with little food. Lexi needed help and we would do anything we needed to do for her. Then it came that some girl at my school I knew only through a friend, never formally met needed the same thing. We had no room and no food, but we planned on making it. My mom said yes before I said who the girl was. Thankfully, the girl found her way and we were not needed, but she was grateful for the open door.

Odd enough, I do think that the most generous of people are the ones not with money, but those who others would call poor. Those who are generous are never poor! I understand that, I see that I have everything I need, not everything I would ever want. People who are generous are never not in want, they just understand that what everyone else has, they do not need, and someone else may though. It is a different sort of feeling that is hard to understand. Those sudden urges to do things for others is not in everyone although the world would be much more beautiful if it were, but it is a gift, the gift of wanting to do others for something for nothing other than that bit of happiness in return. It is a gift, like a little box and inside is a soft teddy bear almost, although then suddenly you realize that you already have a teddy bear and you want to give it away to some child who lives alongside a highway, and then that gives you another box and another and another and you cannot help but give them away. It is a wonderfully compulsive feeling, it is adrenaline without being risky, to know that you just helped someone out in a way you do not understand, unless you do.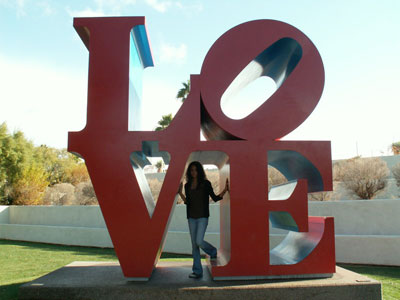 © Shannon E., Glendale, AZ