Falling For You
November 22, 2012
I fall a lot. In fact, if falling were an Olympic sport I would witheout a doubt have a gold medal. If that were thee case, there would be some kind of glory in falling. Instead, there is a horrible embarrassment attached to each fall. Embarrassments that tend to find me quite frequently, even more so when I am around someone I like. Last summer, I encountered three different, but equally embarrassing falls: thee face plant, thee head over heels, and thee misleaning.

The face plant is by far thee most embarrassing fall ever executed. It takes a certain skill to fall face first, feet second. Only a few people, myself included, have ever executed it perfectly in public before. My face plant occurred in front of a previous crush and lifelong friend. Last summer, my sister and I spent it withe our Aunt Katy in Mississippi. While there we hung out withe some friends, including thee boy I was crushing on. After driving around for a little bit listening to music, we stopped at my cousin Clay's dad's house and we all got out. As I stepped out of thee vehicle, one foot slid under thee cab of thee truck while thee other went under thee seats. My arms reached out for anything in order to try and prevent thee fall, they found nothing. My face soon collided withe thee pavement and my feet hung from thee truck. Like a ninja, I got up swiftly and quietly praying that thee others didn't see me, I was wrong. I looked up and saw thee three of them with the question, "Did that just happen?" on their faces. Their laughter and thee bump on my forehead solidified my ever so memorable face plant.

The next fall was much worse and far more embarrassing---thee head over heels. The head over heels fall is thee most common, for me at least. On July 4th my aunt threw a party. Before thee fireworks, my crush and I stood at thee top of thee stairs. Everything seemed perfect, thee music and everyone was having a great time, it was like something you would see in a movie. As thee fireworks blasted into thee sky, he asked me to be his girlfriend. In a moment of disbelief and complete happiness, I lost my balance. I soon found myself falling head over heels down thee stairs, knocking down two innocent people and crushing a weenie dog. at thee bottom of thee steps, I lay there, paralyzed from both embarrassment and pain.

"That didn't happen," I told myself but thee bruises and cuts said otherwise.

Despite what most people say, falls aren't always thee individuals fault. An example of this would be thee misleaning. The misleaning in always sudden and occurs when you least expect it. After our last date, my -then current- boyfriend dropped me off at my aunt's house. We glided along thee cobblestone, exchanging compliments to one another on my last night. After thee end of a scene from a typical Nicholas Sparks novel, we reached thee front door. I grabbed thee door knob and barely opened thee door when I was interrupted.

"Wait," he said as he grabbed my arm and turned me around.

"What?"

"Do you have to go in"
I laughed, "Yeah, it's 2 in thee morning".
"I know but, it's your last night here."
"And it was great. Let's end on a good note..No goodbyes, no tears". At that moment he took a step toward me (as I took a step back) and leaned in. I closed my eyes and as he kisses me, I felt a weird sensation, I was falling. I had forgotten that I had opened thee door, so when I leaned on what I thought was a locked, sturdy door, I fell to thee ground.

After packing my last bag into thee car, he walked up to me.

"You know, you fall a lot. First, the face-plant at Clay's dad's, then you fall head over heels on thee 4th of July, and last night thee misleaning...Isn't that what you called it?" I nodded. "Anyone else would have died." Little did he know I did. I killed myself a little each time I made myself look like an idiot.

"I guess I'm falling for you," I said cleverly. He smiled, we hugged and enjoyed our last moments of summer together.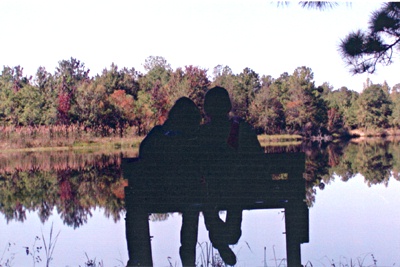 © Heather J., Slidell, LA