Road Trip
November 10, 2012
Even with all of our advances in technology, scientists still haven't developed a way to teleport to places. Airplanes are usually the method for distant traveling, but what are you going to do if you have to reach a destination 3 miles away. Personally, I like to walk, but if its 5 miles or more you need a better method. Especially if your carrying a suitcase, that is a heavy load to carry across any border, whether it's a town or state, which is why engineers thought of this clever method. Make a sturdy box, give it circles, and give it a push. They created this temporary cage that can hold you and your stuff, to take you almost everywhere. They haven't figured out a way to add a flotation device to the bottom of these contraptions called cars, but soon we will be traveling to Europe in style. The Cadillac boat, the mustang float, or the Chevy heavyweight swimmer, I can see it now. However, until then were stuck with these other methods. But, why expand our boundaries until we've explored them. We can explore George Bush's ranch in Texas, stalk Charlie Sheen in LA, or just watch the heat in Arizona. Which means my mom's car is getting a lot of use.

However, before you embark on a trip like this, you must have the necessities. One, movies with good dialogue, so the driver can listen as you play it on your computer, I suggest some Shakespeare or Jane Austen. Two, many snacks, as many as you can fit into the front seat passenger's arm radius, make sure none of them are healthy. Three, napkins, just stuff them in a bag and have them ready, you don't know what will spill or what will happen with those crazy drivers they have on highways. Four, you and the driver, forgetting them will be kind of stuck. Which is the opposite of travel, so if you've completed this checklist, now its time to go for a ride.

You've heard of Province town right, on the island of Cape Cod in Massachusetts? Normally if you're just going straight there it's a six-hour trip from Ardsley, New York. Plus, a five year old could drive there, there's about three turns from that area to the highway that will lead you all the way there. But, that would be too easy, so we head off to Boston first. It's a 4.5-hour trip, and you can't just jump into the movies and sweats, so you talk. About what, I don't know. What you're going to do or the things that you pass on the road. Nevertheless, during a long trip, you can't help but put on the radio, and listen to whatever poop is playing on the station. What we heard wasn't poop at all, it was Frank Sinatra. Come Fly With Me, if you can believe it? Ironic, huh? As we were singing with Frank's crystal-clear minor voice, you can't help but look around. What we ended up seeing was some bumper stickers, not all funny, but some just nice. "If you like your pet, honk," or "Sarah Lawrence University." My mom's car itself has a Facebook timeline practically glued to its own butt, with Cape Cod's over sand permits. It's like a family reunion that keeps growing with more and more distant cousins that you never knew you had. Another fun thing about traveling by car is that you not only get to have a more comfy setting, but you get to make political judgments. I mean, now of days every one has the team they're rooting for ironed onto the a** of his or her car. If you see someone's political affiliations that you don't agree with, Mitt Romney, you always have the option of ramming his or her car. But, then you might waste your travel money on repairs, so I suggest just making lots of angry shouts at the sound proof glass. I believe its more cost affective, you don't want to miss out on those key chains that say the places you went.

After the 4.5-hour trip, my mom turned out to be right. Boston does have the worst drivers. I didn't believe it when my mom told me, I thought New York City cabbies wore the worse, I didn't no you could drop any lower from that. But, I learned my lesson, New York City cabbies just speed and make sharp turns, but holy s***! The Boston drivers go the wrong way on a one-way street, and drive backwards on oncoming traffic to move the car across a 4-lane street. We spent a few days there, looking at historical sights, and just doing things for fun. Like how we went on this trolley, and heard the best joke for New Yorkers. Before I tell it to you, can you imagine why a Red-Sox fan would be nice to Yankee fans, it beats me, but it was a very interesting thing to see. Anyway, before I tell you the joke you need a little background on Boston. Boston is not only known for their baseball team but their beans as well. Boston has many bean corporations, loves to eat beans, and is known for making the best beans. Now that you are all caught-up, here is the joke.

"Do you know how many beans are in a can of baked beans?" The trolley driver asks all of us.

"No," we the small audience on this trolley reply simultaneously.

"Two-faaaaaaarrrrrrtttttttyyyyy!" 99% of us burst out laughing uncontrollably, except for this other tourist, that was from Germany I think. Germans are all proper, and they don't really understand our weird attraction to fart jokes. But, I believe that was funnier then Conan.

After a few days, I believe 4, of playing the key role of a tourist, with a map hugging our faces, and cameras beating the hell out of our ribs. We took off for our last time, this time all the way to Cape Cod. That would be a two-hour ride, but we already had everything set. We had the fattening snacks, and the movies to play on my computer. Since, we never drove from Boston to Cape Cod, I set-up the GPS I put on my mom's iPhone to direct us to Cape Cod. But, after around an hour, things started to look familiar, so I was able to turn-off the history teacher in my moms phone. We just talked, the trip there was truly familiar. But, this place that I love so much, was deserted. The winter had dragged it through the mud, and winter wasn't over yet. Very few places were open in Province Town, luckily, one of my favorite stores, Recovering Hearts was open. This store is all about cultures and art was open. Because of this I was able to add one of my charms to my necklace, these were reminders of all the years I've been there. Another one of my favorites stores, also being the same as my moms, is a jewelry store name Sparks. This woman has watched me grow up. This woman has seen me browse here every year trying to get all the presents I need for my friends. But, familiarity is good, as long as it's not too often. And trust me, once a year isn't nearly as frequent as it should be. Other then that, nothing very eventful happened in the 3 days that we were in Cape Cod.

Regardless of how, uneventful the destination was, the trip back was my all time favorite. Not because I missed home, or anything sappy like that. I saw a Packard on the highway. It wasn't being towed, its wasn't attached to anything, it was driving on its own. At 50 mph, it was in better shape then my mom's car. My mom's car has dings and dents everywhere, this Packard didn't even have a scratch on it. It looked as though it just came out of one of Humphrey Bogart's movies, with a new paint job and everything. That car was burning rubber, my mom got up close to it so I could take a picture of it with my phone, and it was amazing. The interior looked original, I couldn't believe my eyes. That was the best ten minutes that I ever had during a six-hour car ride. The rest of the car ride was invigorating, we had the junk food, watched To Have or Have Not with Humphrey Bogart and Lauren Bacall, their first movie together, as we tried not to ram into other peoples cars that said stuff like "Obama sucks," or "Mitt Romney is the Future." It would have made us felt better, but with all the miles we put onto this car, and the memories that made, this car is ours, I just don't think it could take it. Of course a 2008 Honda Pilot could beat any car in the ring, but we don't want to purposefully hurt the cage that makes it possible to travel.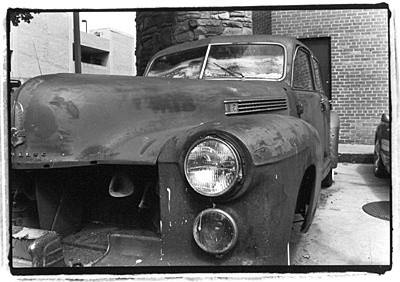 © Jessica T., Bethesda, MD