Leave A Legacy
November 1, 2012
"Jess I need you to wake up, Victoria just wrecked her car and we have some bad news" I looked from my dad to the clock on the wall. It said 2:20AM. I wiped the sleep from my eyes and looked back at my dad waiting for a reply. After all this wasn't the first time she had wrecked her car.

"We've lost her" he said.
The only way to describe the feeling I felt was like my heart dropping to the ground and shattering into a million tiny pieces. So many things went through my mind at that moment. This could not be true.

"What?" I said as I finally realized where I was sleeping at, on the couch.

"She wrecked last night. That's all we know, we're getting ready to go to your aunts house to tell her because she isn't picking up her phone. Are you alright to stay here by yourself? The rest of the kids are in bed." He said as he put his phone in his pocket and his hat on his head. I just looked down at the ground, feeling an urgent need to vomit.

"I'll be fine." I managed, holding back tears. Before they had left Dad said it would be a good idea to get some rest, but I was wide awake. When the 4 o'clock news came on I instantly turned it on thinking that maybe this was just a dream. "The coroner's office says that the person hit the guard rail, flipped over it and landed into the water on highway 14 next to Lakeview stake house. They believe that the person was alone and a dive team was able to recover the body" I just stared in complete shock. Then anger bubbled up inside me. The body? I hated how they said that. She was so alive and vibrant the last time I saw her. It was all so unfair.

Her 17th birthday was exactly a month away. I couldn't stomach to just sit around any longer. I got up and started to clean our house, just to pass the time. When 6:30 rolled around I decided to make breakfast for my mom and dad and my 5 younger siblings. When mom finally came home she was surprised at how much food I made. I told her that I was just trying to pass the time. She came over and hugged me and told me how much she loved me and I couldn't stop crying. She said that she couldn't imagine what her brother must be going through, losing a daughter so young. But little did we know how much pain the family was about to go through.

News spread that we were going to have a candlelight service for her at the water park where she worked as a lifeguard. It was so beautiful. Hundreds of people showed up, each holding a candle. My aunt started to cry and she was looking around helplessly, like she didn't want to. I grabbed her and she sobbed on my shoulder, she was almost screaming. My mom heard and took over. I just stood there feeling more alone than I ever have. We sang some songs and tried to remember the good times, but knowing that we'd never have anymore "good times" made me cry harder.

The next day was the private family viewing at the mortuary. It was hard enough to go back there because that was the last place that I'd seen her. Our great uncle John died a week ago and we went up there together. I remember her dragging me to the bathroom by my hair and taking pictures with me. I smile as I type this, because it's my favorite memory of her. The last thing I said to her was "Be careful and have fun" she replied " I won't" How ironic was that? We met my grandparents in the parking lot. My grandma just grabbed me and told me how much she loved me and for me to be careful and she just kept telling me over and over that she loved me so much. It broke my heart because I knew why she told me this. I was only a year younger than Victoria. We walked up to the steps where I had last hugged my beautiful cousin and I could almost see her there.

I started to tense up and walk faster to get away from the memories but my mom caught me, understanding immediately what I was doing. She hugged me close and let me cry. I wasn't ready for this. I didn't think I was strong enough to face this, but my mom reminded me that I was not alone. Inside there were just a few of the close family. I kept avoiding looking in the direction of the bathroom where she had taken some of her last pictures with me. A man dressed in a black suit and snow white hair approached us and said:


"Now. She's not going to look the way you remembered." All we could do is nod. Johnny (my uncle, Victoria's dad) and Vicki (Johnny's wife and Victoria's step-mom) led the way to the room where she lay. I walked into that room ready to be strong for the whole family, but when I saw her laying there and I heard Johnny screaming, I lost it. She didn't look like herself at all. I can't describe it, she almost looked non human. She had bruises and scars that framed her whole body. I ran out of that room and sat down on a seat in the waiting area. I felt as if I was going to pass out. I put too much on myself to handle. Instantly I was wishing that I had not came here. My mom and Vicki came over and held me. Vicki kept reminding me that:


"That's not her, she's not in there" and I knew that, it was just an empty shell. All of her life was gone. She was gone. Really gone, and she wasn't coming back. I can't even describe the pain. It hurt so much that it was physical. I wanted so badly just to crawl up in the corner of my bed and stay there as long as I could. I barely spoke on the way home. The next day was the funeral and I had to be ready so I went to sleep early and got a lot of rest. I am such a people person, my friends and my boyfriend Tyler started to worry about me. Tyler came for the funeral and the candle light service to offer me some support, but no amount of support was enough to help with the emotions that I was feeling. A slideshow was played with pictures of her in it. The song "leave a legacy" played over and over. That became the theme of her life and death.

We all got to sign her casket and we sang a lot of Christian songs. After all, we are a very Christian oriented family. We then put her in a truck, not a hearse! She loved trucks and purple, and music. I wore purple in honor of her, I knew she'd like it. At the burial we were all handed a balloon. Johnny threw his up in the air and screamed "I LOVE YOU VIC!" we then threw ours up in the air. I think the hardest part of this experience was having to celebrate her birthday, without her.

She was so happy to finally be turning 17, yet she never got the chance. We started an organization in honor of her called: "Guard Your Life" she wasn't wearing a seatbelt and was ejected from the car so the number one thing on the list was "when you sign up, you must pledge to wear a seatbelt at all times" although some good has come from this tragedy it will never be enough to cover the amazing, talented beautiful person that we lost this July. I love you Victoria! And I miss you more than you'll ever know. You left an amazing legacy.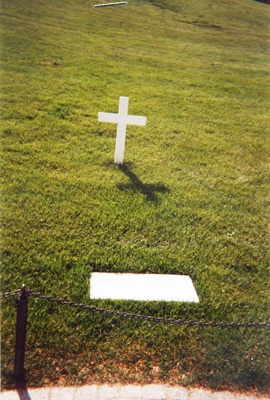 © Whitney T., Glenpool, OK