When I was Young in the Country
October 3, 2012
When I was Young in the Country
With thanks to Linda Rief for When I was Young at the Ocean
By Lucia Feltovich



When I was young in the country, I'd walk down the hill to the park and play alone in the fallen autumn leaves. Like a million dancers, twirling and pirouetting in the crisp, cool air. Sometimes I sat, immobile, on the swings. No one ever taught me how to pump my legs.


When I was young in the country, I played with dragonflies and snails and caterpillars, and carried them with me in cans as my most prized possessions. I plucked flowers with bees on them and carried them home, careful to keep my gait smooth and stealthy so the bee wouldn't detect movement.


When I was young in the country, I had frostbite on my ears and sunburn on my nose during September. I scented the air like a hound dog and filled my nose with hay, trees, and dirt smells. At the first snow I pressed my nose against the windows and blew frost trees on the icy pane, built cities of snow, and froze my toes trying to dig a hole to China.


As the snow melted, tiny green and pink buds appeared on delicate branches. The calluses on my palms hardened again as I practiced swinging on the monkey bars, getting ready to show my friends. When I was young, I never wished to live in the city, or go to the sea, or visit another continent. The country was enough.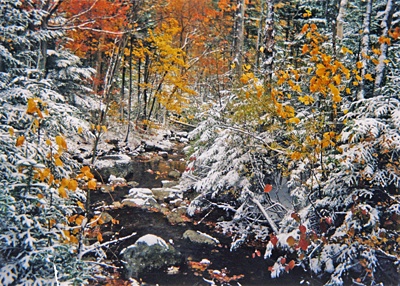 © Eric E., Lexington, MA