Lovely Notes in Heart & Mind
October 6, 2012
At first, I sat down, and I wondered, how am I going to write this? Write about love, that word that has brought me so much trouble before, but now.. brings me hope.. brings me joy.
Well, you know what they say, always start from the beginning.

In my beginning, he was the perfection I dreamed him to be. But I never knew him; I never saw his face, saw him smile, never saw him angry or upset. I never learned his language, never heard him speak. But in my mind, who I thought he was, I thought he was perfect. Until he left, and never came back. And in that time, there was always some part of me that believed he was still out there, searching for a way to come home, but he never did.

So in my vulnerability, someone else came, and he too told me he loved me; he told me he would rescue me from the world; he made me promise him that I would stop cutting lines into my wrists. I never told him that I loved him. How could I after swearing my loyalty to the one before him? But because of my oath, I am proud to say I never spilled those words to this man- boy, who pressured me, so young and innocent..

Then he left too, but then he returned. Ironic, isn't it? The one I wanted to come back never did, but the one I was afraid of, did instead. So I told him to leave, leave me alone, and to never speak to me again. So he left.

And then you came. And from the moment I saw you, I had a feeling that you would come to be someone important to me. From our beginning, we always had this connection, the one where it felt natural and calm. Serene, caring.. You always tried to understand me, you never turned your back and pretended you never saw me. You were there, you never left. You fought to stay, and now you're here. And now, you're mine. But no, it doesn't end there.
When there's pain, you come, you don't hesitate, and you hold me until the tears stop.
When there's laughter, you always look at me with the same tenderness that was always there, but that I was too blind to see before.
When there's love, you open up the true soul that you keep hidden from the world and smile; you tell me that you'll always keep a smile on my face, and no matter how hard, you will always stay, and you will always be that armor that saves me.
And if we're ever separated, you would fight with your will to the end of that separation, and close that distance, until we can be together again.
That's what separates you between them. You promised me that you would never leave, you set aside your time for us and don't even bother to worry. You wait patiently for me to reach you, and you still stay.
Nobody knows though, that it's these things that touch me the most, because it's everything you do that was deprived from me before.
Because before, so many promises were broken, so many times was my heart tattered with, and aside from that, I was being fed lies and hopes that were chained to the bottom of the ocean and I couldn't escape the rocks that held me in place until you came. It is so hard to explain to you how much you saved me from suffocating myself with the past that keeps pressing down on me, and the pressure may not have been lifted completely, but you've taken me to the shallow end for the first time in years. The end where although I'm not free, I now feel the sun that shines above the surface of the water, and from it brings the warmth from the presence of yourself.
So the small kisses you place upon my cheek and the sweet notes you send me are deeply cherished and are delicately saved in the past memories, coating the bittersweet retention thoughts with your soft endearment..

Right now, I am waiting to say the three very important words that affect me greatly, not just because of my fear of it's capabilities, but because this moment, where we're neither there nor not, is the perfection I've been waiting for. To know the true emotions without having to use the word "love" is the greatest and purest form of love there is, and this, this is where I want to be. To not rush, to not assume, but to know, that one day, love will be the only thing left that we have for each other.

For Alex, From Myself.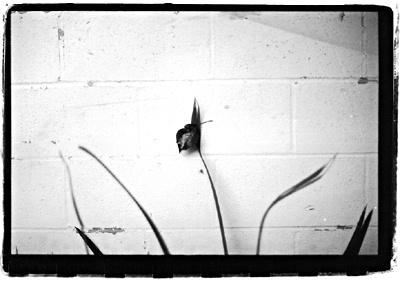 © Rebecca W., W. Hollywood, CA