What Theatre Means to Me
September 18, 2012
Theatre, to me, means that yo don't just get up onstage and pretend. You become someone else to entertain others. Right now, I'm just at the beginning of what i hope will be a long acting career. I mean, I'm always acting out scenes from movies or old memories with or for my friends, but other then that, this is all relatively new to me, besides what comes to me naturally. The one, and only, production i have ever seen, that also inspires me, is the Nutcracker in a theatre in Seattle Washington.

The main reason why i am here is because i have people who support me in my search for an acting education. My uncle and i banter back and forth with comedy. We watch Conan(the talk show on tbs), the Office, and Family Guy almost every night together.We use some of their comedic material to get our funny bones well-oiled. Then, during commercials, we act out our favorite parts from what we just saw, or add our own hilarious view of it. Brach Thompson, whom i recently met at the career fair, also suggested i get into acting because of my intense interest in it. We talked for awhile about me possibly becoming an intern at Bigfork Summer Playhouse, where he works. And that's when i finally decided that i was going to take all the acting and theatre arts classes that fhs provides! Drew Barrymore is my main inspiration. I love how she can turn something serious into something extremely comical!

I don't know much about process or production other than a few basics. It's a long process to "get into character". I had to learn that the hard way when i was trying out different emotion-based monologues. It's very difficult to go from being one of Cinderella's ugly step sisters, to being a 12 year old girl who just found out her parents are getting a divorce, in under a minute. Production of a play takes a steady, able person. They have to have energy, patience and know what has to be done

There has been some inner self-debate about what i want to do in the future. I either: a) want to be an actress, b)be a teacher, c) be an acting teacher or d) be a writer. I want to be an actress because it's what i love. My dad has even been having a reoccurring dream about me being a combat nurse. He thinks it's about me being in my first movie. I want to be a teacher because i love kids and i'm good with kids, too. I want to be a writer because i love writing anything and everything.

Though this is just the beginning, or quite possibly the middle or the end, of my acting career, i know for sure that it will be a long one! And maybe, just maybe if i work hard enough, my journey will be filled with thousands of loving fans!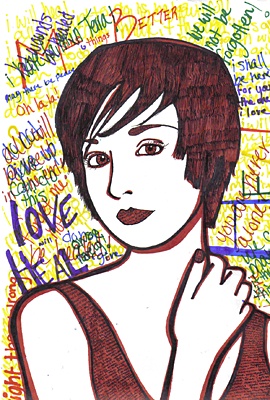 © Sara D., Aiken, SC