The Girl in the Green and White Burden
September 15, 2012
She was a pretty thing, not to big not too little. Always seemed to be bored in every class; as if it was her intelligence that gave her the right to sit in the back of the classroom rolling her eyes. She was the type of girl if you stayed out of her way then you would never cross her mind, but I once new a friend that crossed her path and went down the wrong direction! My poor friend started talking to the girl's old flame, which she was obviously still fond of. Now the poor sophomore was no match for this senior. Who stomped all over her, already low self-esteem. She would make it a-point to let the girl know how inferior she was to this bullying-beauty.

She didn't care what people had to say about her. She knew she had to take care of herself; and she did. Not how a typical high school girl would though, she fixed her hair, put on some make up, but never dressed to impress. Never wearing anything more but blue levis and some busy looking shirt. A few days out of the month she would come "dressed up". With the same blue jeans with rhinestones on the back pockets, a white rhinestone belt, that always seemed to catch any eye, some brown colored, healed cowgirl boots, which made her two inches taller, and to tie it all up a simple but nice looking t-shirt usually with rhinestones making some sort of picture. Those were the days she made those high school boys necks turn and the girls spilling lips drip into each other's gossip hungry ears. These days she seemed to hold her head higher. But not today, today she really caught me off guard.

It was raining, the sun seeming to be out of service. Most of the other girls had their hair pulled back and lacking their usual make up, sweats and some sort of tight fitting sweat shirt. But not her. Her hair still fixed, make up still plastered, and blue jeans still rolled up at the bottom. As if the rain puddles would eat up the bottom cuffs. Then, there was this big white and green bundle of material sitting on her shoulders, draped down her arms, and swallowing her abdomen. A big letter 'S' stitched to the front, the word "SPARTANS" across the back. Some sort of college team, I guess. The sweatshirt was not made for a girl. Maybe for an over sized sports fan, you know the type that paint their face, devote them self to going to every game, and never seem contempt with the amount that they scream, even if they lose or win. That jacket en-golfed the girl. Like some sort of burden she couldn't overcome. But this green and with sweatshirt was simply just that.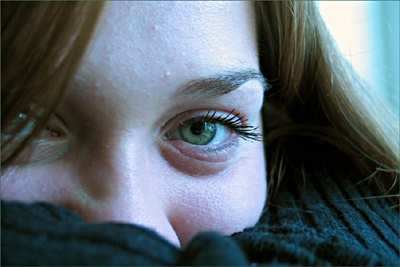 © Andrew M., Belleville, ON, Canada