Size 6
August 10, 2012
I peered at the shelves of jeans from behind a rack of tops at American Eagle. I really needed a pair of jeans, but there were 2 thin girls getting pair.

I didn't want them to see me pick up my size 10.

I busied myself wandering around the store until the girls left. I walked swiftly over to the shelves and grabbed a size 10 off the shelf and tried to make a run for the cash register before anyone saw me.

As soon as I turned around, a not-so-bad looking employee stood smiling. Crap.

"I think those are a bit too big, hun." He said.

I looked down at my feet, "No, they're not."

He smiled warmly and took the jeans from my startled hands and put it back on the shelf. Still smiling, he pulled out another pair and gave them to me.

I looked down at the pair- it was
a size 6. Ha!

I actually laughed out loud as I put them back on the shelf.

"In case you haven't noticed," I told him reaching for my size 10s, "these'll fit me just fine."

"Thanks anyway." I told him as I started to walk away.

"Fine," he said looking defeated, "at least let me get you a fitting room."

I handed my size 10s to him (something they did at American Eagle) and followed him as he opened a door and handed my jeans back to me.

"Just press the little button if you need anything, okay?" He asked as he was leaving.

"Yep, okay."

I pulled off my baggy shorts and stepped into the jeans. As I pulled them up, I was happy to notice that the jeans weren't tight around my thighs and butt.
They buttoned, and fit perfectly.

I changed back into my shorts and headed to the cash register. I put the jeans on the counter and reached for my wallet. The employee that had tried to give me the size 6 came next to me and leaned on the counter, smiling.

"You see? -You're welcome." He said , before walking away with a skip in his step.

What?

I paid for my jeans and a few tops I had picked up, and was about to head out when my mom walked in the store and wanted to see what I had bought. Something caught my attention- the number on the tag.

I must be hallucinating.

But no, I wasn't. There on the tag said Size 6- and it had fit me perfectly. It made sense now, why he had smiled and told me "You see?- You're welcome." He must've switched the jeans when he gave me the fitting room.

My nose burned and I knew I was about to cry- in the middle of American Eagle, no less. My vision was blurred and I felt a tear slide down my cheek. My mom didn't understand what I was feeling, but she hugged me anyway.

I haven't worn a size this small in years. It was still 3 times bigger than what my mom wore, but it was still fine for me. Even if American Eagle jeans are cut bigger, it really didn't matter to me.


I turned around and peered over clothes racks to find the guy. He turned around just I was going to head out the store. I put up a thumbs up and he winked.


That's the happiest I've been in a really long time.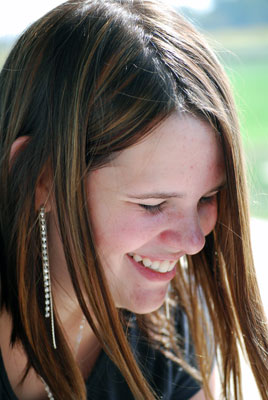 © Casey C., Zionsville, IN