A Clarinet's Harmony
August 9, 2012
The case opens with a click, inhaling deeply I lift the lid. A very small smile pulls at the corners of my mouth as my eyes rest on what's inside. My hands reach out almost involuntarily and my fingers extend to lovingly stroke the silver keys. Guiding my hands to the bell, I lift it carefully out of its velvet lined, perfectly molded space in the case. I admire the shiny silver rimming fitted around the perfectly circular bottom of the bell.

Soon comes out the next piece, the one that my right hand knows well. The one with the four keys at the bottom that give my pinky a work out if there are a lot of sharps or flats in a song. I slide this piece and the bell together, working them as one.

I work carefully, and easily. Every piece is familiar. I know the way my fingers feel on each key. I know where the wood has warped slightly and where it is smooth. I know how heavy the instrument feels when I slide my right thumb beneath the thumb rest to support it.

Soon the instrument is assembled, whole. It has gone from five individual pieces to one in a matter of seconds. Although each piece separately is beautiful to behold, silver keys polished to perfection, the black wood portraying such character, the pieces are useless without each other. There is no music unless each piece is in its proper place, lovingly connected to the next.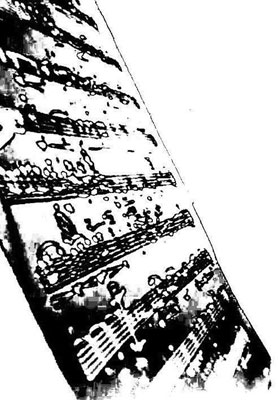 © Allan L., Plano, TX