I Could Do This.
August 12, 2012
I grin nervously as I watch Mrs. Edinger search for a scrap of paper on her messy desk. My stomach bubbles with the kind of excitement that is very hard to contain. However, nestled in the anticipation is a grain of nervousness. What if my story isn't any good? I push my blond hair away from my face, pushing away my doubts at the same time. Of course it's good. That's why Mrs. Edinger had bothered to do something more with my story than grade it and hand it back. I watch the rest of the class chatter loudly and reflect on the assignment we'd been given.

The project was simple: to write a story. Mrs. Edinger imposed almost no boundaries about what type of story was is to be, and our class had turned out quite the variety. Mine was titled Daeh Retnuh. I imitated the folk tale style, beginning with "Dear Reader," and setting my tale a long time ago. It was about a young boy ridding the village of a wicked ghost named Daeh Retnuh. (Daeh Retnuh is the words "head hunter" spelled backwards.) We are wrote out our stories by hand into little books, and illustrated them ourselves. My hand cramped over and over, but it was worth it. I'm pleased with the way mine turned out, especially the creative swears and exclamations I enjoy inventing for my characters, including "Amazing Grace with cheese!" I had worked hard, but I have no idea what anyone else will think of my story, my baby, my months of hard work.

It turns out I don't have to worry about others hating my story. Mrs. Edinger liked it. In fact, she liked it so much that she typed it up and has sent it to her cousin, Robin Pulver. This is a big deal for me, because Robin Pulver is a published author! I've grown up with her children's books about Mrs. Toggle, especially Mrs. Toggle and the Dinosaur. The bit of paper Mrs. Edinger is attempting to find is an email from Robin Pulver, about my story. That's why I'm shifting my weight from foot to foot, waiting to find out what a real author has to say about my story.
"Found it!" Mrs. Edinger declares suddenly, making me jump. She hands me a small, unimportant-looking slip of paper, a printed out email. I take it from her. My hand is shaking like a leaf.

"Thanks." I say. I take a deep breath, and peek at the paper. Mrs. Edinger's name is in the address line, but the email is addressed to me.
Dear Annie… I relax bit by bit as I read, the butterflies in my stomach dying off one by one.

She'd liked it! And, she'd written to me personally! This isn't a stiff form letter from a secretary, nor a quick note addressed to my teacher. Robin Pulver had taken the time to write me an individual email, and this makes me shiver with excitement. She mentions her favorite parts, and praises my piece as a whole. Looking back, I particularly remember the last thing she wrote.
"You already have what many writers work for years to achieve: a unique author's voice."

I feel tingly. An adult who'd never met me had praised my ability as a writer Wait a minute. I blink hard, once, twice. Something just dawned on me, making me feel light and airy inside. If I decide that that I want to be a writer, I've got a good chance of succeeding. Robin Pulver says so. In the words of L.M. Montgomery, "it was the first bubble on the sweet cup of success."

I smile shakily at Mrs. Edinger, thank her, and wobble back to my desk. I'm acutely aware of everybody staring at me. I've gone from tense with worry to weak with relief. I grin broadly to myself and wriggle with excitement as I realize that I do want to write. This is what I want to be doing for the rest of my life, and you know what--I could do this.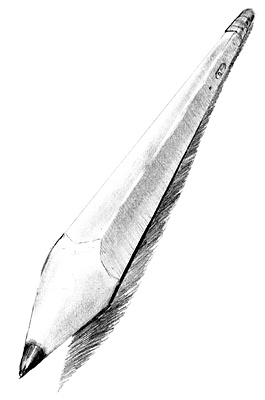 © James H., Philadelphia, PA