Missing a Country I've never been to.
July 9, 2012
Egypt, the land of Pharaohs, home to the worlds longest river, one of the worlds most historically rich countries.
Since I was a child the land of sand hasn't ceased to Amaze me.
Even before I understood its story, my heart has longed to be there.
The New Egypt is a mere shadow of the glory it once had.
I may not have lived that long ago but the ever lasting beauty of the dunes is in-crested in my mind. The scent of lotus oil passes by with every breeze. The salty nip of the ocean air would brush the stress right off of you.
The humming and chanting of priests and children would bring warmth to your heart. The gleaming of Alexandria would bring light to your eyes.
Ancient artifacts whisper to you a story of the past.
Bronze skin and long noses with dark soul piercing eyes follow you through the sacred temples.
To close your eyes in Egypt, the real Egypt, the old Egypt would take your breath away. I miss it. In my dreams it all seems so real so close. But to open my eyes now is to close my heart then. Egypt is in my heart and mind. Tattooed on my soul and heard in my words. I am a daughter of Egypt not through blood or from spirit. I am a Daughter of Egypt by heart For ever until I shall depart.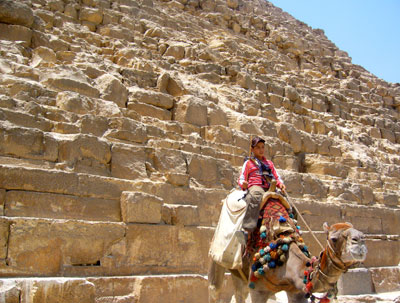 © Elena N., Fair Lawn, NJ