What is your favorite thing to do?
July 7, 2012
My most favorite thing to do is to go on the computer. I can do lots of things I really like to do: Learning new words, searching up things and videos, making up stories and websites, etc. I can just search around the web and have fun, discovering things I've never even knew that they existed: I can do crazy things on Google, like rolling the screen around when I type in "Do a barrel roll"; I can go on websites that say they are hidden and cannot be accessed.

I normally just surf around the web, looking at articles and cool websites, for example: The Hot Word on Dictionary.com is a slightly interesting article to look at, and a cool website is like youtube.com, where I can watch whole episodes of my favorite show backwards, in Spanish, in German, and many cool remixes of songs! There are also funny videos of random faces and stuff that I can look at when I'm bored.

I also like the computer very much, because I can "write" things much faster by typing, and in the olden days of no computers, letters had to be mailed to each other, taking up to 2 months. Now, I can instantly deliver messages across the world in no time at all! Not long ago, the laptop was released. Before, people could not carry the heavy computer around easily, but now, I can bring it anywhere, then charge it when it runs out of battery.
The newest laptop, called windows 7, has a webcam installed right in the computer, not even needing setting up, and cannot fall down and break. The newest laptop also has many new abilities, like shortcuts: Windows+D will show the desktop, Windows+P can switch modes easily. Windows 7 also has Speech Recognition, in which I speak to the computer and can give it commands, or type in full sentences without a keyboard. With a few times' training, I mastered the Speech Recognition.
With so many abilities, the computer is the best machine man had ever made! People had made many improvements to the computer, from the first 30 ton computer, to a small laptop. We must thank the people who contributed to the computer, for without the computer, life would be much harder to live.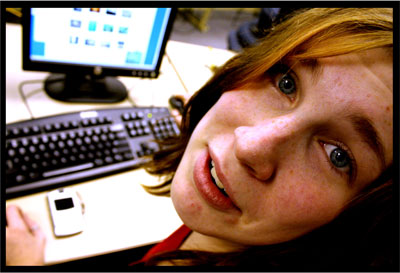 © Sam W., Bellevue, WA