Distracted
June 16, 2012
Eyes flit back and forth. Pupils zooming in on an item, brain telling them to stay there longer—to really get what they're examining—but, by then, it's too late and they're too far gone.

Zoom, zoom, there they go again, and at this point, it's just better if I give up, because my brain's saying one thing and my eyes are doing another and this whole thing makes me wonder if I have MPD.

But, I can't really help it.

I don't think you can, either.

It's the way we live our lives. The way that other people glance at us and seem to ask, "You call this 'living'?" And we smile back (well, I suppose we'd be laughing, really, seeing as it's the two of us) and say:

"How else would you want to live?"

It's the sort of feeling you get only at three a.m.

Not the lonely sort of middle-of-the-night, creepy-scene-right-out-of-a-horror-movie-because-why-the-hell-are-you-up-at-this-time feeling, but the warm one that spreads all throughout your body. Tingling in one of your ventricles and radiating outward. And it keeps me warm because I can't figure out how to use the heaters in my dorm.

It's the sort of feeling you get in letters.

Handwritten, hand-drawn, handcrafted, beautiful, lovely letters which aren't helping with the argument between my brain and my eyes, by the way.

Or my heart.

Because now, that's gotten mixed up in this, too. And all three of us seem to by vying for the same sort of love, though it's hard to find in this crazy, mixed-up world.

It's the sort of feeling you get in pictures you send. In words you write. In memories we have and the people we are.

It's the sort of feeling I get with you.

So, you'll have to pardon me, if I tell you with a straight face that work's not getting done.

And I can't stop seeing pretty, sparkling lights and a smile that I want to make sure will always shine like the sun.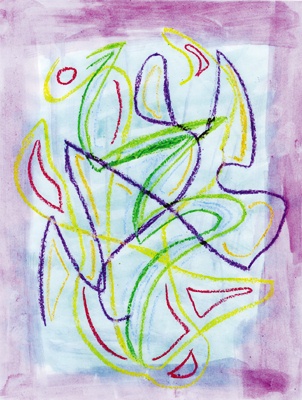 © Annie P., Milford, CT