That's Just the Way We Are
June 15, 2012
I sat by the window in the arm chair and looked through the window, watching the familiar palm tree waving its arm. The trees around it seemed to also wave, as if dancing in a familiar rhythm as the wind blew through the cracks of the leaves that were now firm and green after the long July summer. Some trees brushed tips and clutched together, as if determined not to let go.

My eyes traveled upwards, staring absently at the blue sky that covered the neighborhood with firmness, unchanging and ever same. I drew my arms around my knees and let my chin rest on the hard bone, my eyes ever fixed on the points outside, watching as some children tagged each other and fell on the soft green grass that welcomed them with ever-welcome arms.

It seemed then I was tired and yet internally content. It was not often I felt this content: I was where I wanted to be; studying, working, loving, and stable.

I kept replaying in my mind the images that followed me like a looming shadow that always seemed to follow my footsteps. I could see his face smiling, his brown eyes darting back and forth towards me to see my facial expression. I could remember his shy laugh and sweet voice, constantly gently teasing me on my pronunciation ("it's eehh-zer dilerim, not OOOO-zur dilerim" he would tell me over and over").
And of course, there was that one memory that I could never forget.

I was standing on the balcony of the hotel in Los Angeles, alone and away from my cousin who was sound asleep in our room after our long 3 hour journey.

He had called me that day, the first time to be exact. I had rushed outside and found the balcony near the room.

I clutched the phone and looked forward, watching the rose sky turn colors from blue to yellow with streaks of green, and at last to a light pink color with etched purples of different shades in the corners of the clouds that gathered together in unison. At last, the wind began to travel from its cave into the hot city that smoldered during the daytime.

I listened to him, asking me questions on my journey, family, cousin, everything he could possibly think of. I always stood rather quietly, my heart pounding to the point I could not even speak properly in fear of saying something wrong or what I had not meant.

He paused for a moment.

"What are you doing now," I asked him.

"It's five in the morning here. I always wake up early and go up to the roof to sit alone," he said embarrassed.

I stopped- it was the first time I had begun to realize that we were so alike in this way.

"I'm… I'm also outside..."

"Yeah? What time is it there?"

"7 in the evening. The sun's just getting down… I can barely see it now."

He laughed.

"I can barely see the sun. it's just going up," he said.

We both laughed now.

It seemed at the time it was so odd, strange really. Two people from the opposite sides of the world, literally, talking to each other and envisioning the opposite time of day. We often asked ourselves how can two people be from so different a place, from places that were not even close, have so much in similarity? We were from different hemispheres, continents, even opposite general direction of north and south. At times, it may have seemed like a strange 'soap-opera', but in truth, it was very different; in truth, it was ever more real than a soap-opera could hope to be.

There was an unspoken feeling that loomed over us. In our conversations, our long pauses were often reflections of each other. They strengthened us and built our trust, faith, in each other.

"So, you are sending me the sun then?" he shyly teased.

I laughed, covering my mouth as the shy laughter escaped my lips.

"Yeah, sure…"

I knew he was smiling then and I heard him laugh softly.

"So, then, when you will go to sleep, I will send you back the sun in the morning. That way either one of us will always be in light," he said quietly, still smiling.

At the time, I remember feeling as if I had choked then- the air trapped within the grasps of my neck. I know we both were standing at the time, watching outside and softly laughing at small jokes that in truth did not even make sense. We did not know how long we would be able to last, nor if we would one day wake up to never hear from each other again. We just knew that we had to live in that moment, and to keep hoping for a stronger distant future, even though this frightened us both.

I never remembered how the conversation ended, only remembering the sweet words and shy fear that had crept within my heart.

Often afterwards, I would remember and tease him for it, but he would only laugh and shrug as if to say, "that's just who I am". He is right—that's just who we are.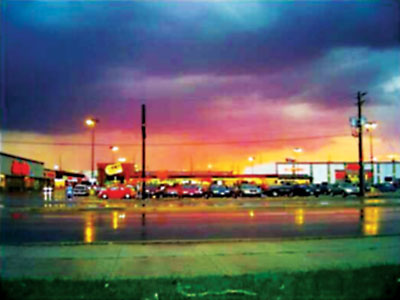 © Jasmine N., Lyons, IL