The Disco Ball
June 15, 2012
It was at that moment that, at the bottom of my stomach, I felt fear and anxiousness rise. My hands shook and I could feel myself blinking often, frozen in place as I uneasily glanced at him. He too was wide-eyed and shocked, sitting next to me on the small bench across my cousin and her friends. She and the rest of the group had not noticed us and filled the dim room with loud boisterous laughter that rang as if the drums of the DJ and his group that were playing up-beat music. We both sat poised for a while, knowing the oddness of the event that had just occurred.

It had started with a simple game, a simple tease. All of us had been chatting on how to spend that New Year's Eve when an older gentleman, a homeless gentleman at that, came to our table, pointing at the sign that read, " Deaf. Selling gadgets for 3 Marks".

Bojan had exclaimed, "Perfect!" as he spotted the flashing disco balls that laid at the palm of the old man.

"We can use them for a Disco show!" my cousin enthusiastically added.

I remember I had been rather quiet and shy, so I had not responded.

She quickly gave the man the sum he asked for and jumped to show us the brazen-colored ball that sparkled at every touch.

Haris, the one sitting next to me, found himself fascinated with this and eyed it with a careful interest. I laughed and teased him," You are thinking of how to take it apart, aren't you?"

He too laughed and nodded, waving at the man to come back to our table. The man grinned, his yellow teeth revealing gaps in the front of his jaw.

"Daj jos jedan," Haris said, handing him another three marks.

Gleefully, he showed me the small ball and clicked the button twice to allow the colors to begin unraveling across the tiny glass field. As we both leaned closer to peer at the light colors, he coyly pointed the ball at my face, allowing the bright light to fall into my eyes.

As I blinked several times, I noticed he had frozen with the light directed at my eyes.

My face quickly turned red and I found myself searching for reasons he had seemed so stunned. Could it have been that there was something on my face? I asked myself. Gently, my arm guided his light down; yet, he remained still and watching my face.

"What?" I asked irritably.

He began to bumble words I had not caught. I heard him say something of the lines of, "You have sparkles on your eyes. It looks really pretty."

We remained quiet for a while, I feeling embarrassed and also oddly revealed, for his eyes had shown a strange realization of truth that, at the time, I had not understood.

I finally understood this event when it came my turn on New Year's Eve. As tradition, young couples danced together before the actual countdown for the New Year. He and I danced alongside my cousin and her significant other for several hours, and it seemed that, at one point, I was finally able to look upwards without fear of falling on his feet. However, as I looked upwards, I caught his gaze and found myself not able to look away for there was a strange soft glimmer in his eyes, a strong yet revealing color of brown. As the understanding passed between us, he laughed and smiled at me as if to confirm the secret message that had traveled within our two brains. I shyly smiled and shook off my glance from him, yet at the back of my mind, I still could see his eyes, revealing his earnest determination, honesty, and innocence. And oddly enough, I saw in him the same feeling I had: fear.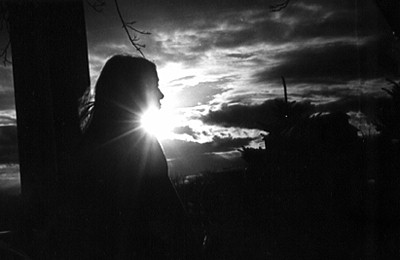 © Elizabeth G., Marblehead, MA