Collapsing
May 17, 2012
My family walked into the chapel late and took a seat at the back of the prayer service. I looked for my second family in the front, grieving for a loss that they knew would come, but could have never prepared for. Each family member talked about a mother, grandmother, sister, and friend who so dear and wonderful. Even if I didn't know her well, I did know that all these things were true. I knew that the deceased had been truly loved, and that she still was.
I then saw him, my best friend. He had a blank expression. Not even his eyebrows cut into his forehead as they normally would when he is angry or sad. He wasn't allowing himself to feel anything, and I knew that he might not for a long time. I had been in his boat before.
I just wanted to run up and hug him, that was the first thought through my mind. He needed love and compassion, and I knew that I could give him that. He had done it so many times before for me, it was finally my time to pay him back.
The prayers ended, and everyone was encouraged to come again tomorrow for the actually funeral and burial. Everyone slowly filed through the line, giving their condolences. I looked at my best friend in the whole world again. He didn't look up to any of the people passing by. He didn't talk to anyone. His sister rubbing his back and told him what she thought he needed to hear.
The line moved at a snail's pace. I do not know if it was just because of my anticipation or because people where taking their time in saying their goodbye's and such. I finally got the parents of my best friend.
I hugged both of them and told them how sorry I was. I guess that by hearing my condolences, he looked up to see me. I walked towards him, which was only a step from his parents, but that step was heavy lead on my foot. I reached him, and I saw sadness that I have never seen before. He stood up just to collapse towards me.
We clung to each other, and we cried together. At first they were loud tears, he said how much he missed his grandmother, how they had been so close. I told him how sorry I was that I couldn't have seen him sooner and help him through whatever he needed. We finally quieted down, but our tears did not stop traveling down our face. I held him for as long as I could. A shudder ran through him as if there was a breeze from the fall wind outside running against him. He started to stand on his own so I leaned my head against his shoulder. The fibrous wool from his black sweater scratching my cheek, but I soon moistened the area with tears and the fabric was soft and comforting to us both.
I finally let go to look at him, pulling away to see his face and eyes. This only brought on another wave of sadness and tears, just as I had gotten control of the previous attack, again launching us into babbles and more clinging. It was the kind of embrace that linked souls. I felt what he felt, and some of his burden was hopefully lifted onto my shoulders. I must have been standing with him for a very long time, and people behind me were getting impatience and wanting to move forward, but I took no notice of them.
I finally let go of him. I gave him a quick smile and said that I would see him soon. I left to main chapel area into a hallway. As soon as I was away from him I collapsed onto the floor in a heap, crying until there seemed to be no water left in me.
I had always been worried that I relied on him more then he relied on me; that I was just using him all the time. This was the first time that I had seen the opposite. He needed me too, and that a feeling that was beyond words.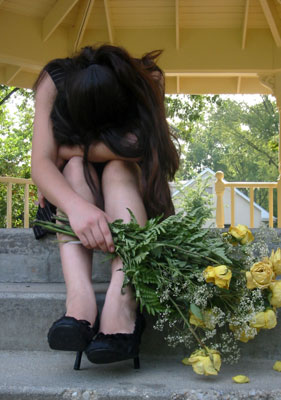 © Martha V., Morton Grove, IL