Having cancer doesn't make you different
May 15, 2012
Being a person with cancer does not make you any different than a regular person. Having cancer makes you realize that you have to live life to the fullest. Making new friends and eating jello is what you mostly do in the hospital. Eating chicken, pasta and any other food you can think of is probably not on the menu.

My name is Priscilla; I was three when I was diagnosed with a brain tumor. I don't remember much, but whatever I do remember, or whatever I was told was great. I remember my bald head, not being able to get out of bed to walk around. Seeing my family a gathered together, crying, laughing, and joking around. It was not the best time for a meeting with the family but it made it interesting.

My mother, Lucia, made the whole situation phenomenal. She always took things and made them worse than they were. The whole family came to see me; the nurse just happened to came in my room and said I could finally try to walk around. My mom started yelling "no my daughter is not getting up, I don't want her to get hurt." Of course the rest of my family started to argue so what do I do? Well honestly the sixteen year old in me came out of the three year old that I was; "Shut the f*** up," silence came from everyone. My aunt says the devil came out of me but I think I was just tired of hearing everyone argue and yell.

Another great one was yelling at the nurse. When you are in a hospital all you eat is jello, you never have anything else. The nurse came into my room and gave me jello. She handed me the little container and I said, "I am so tired of jello I want real food." She just laughed and still gave me the jello.

I also remember my mom walking with me in the stroller and everyone coming up and saying, "What a cute little boy," of course they were wrong, but they couldn't tell because my head was completely shaved. My aunt says the first time I got up to walk I moved like Frankenstein. I find it kind of funny when I think about it. I kind of remember some things but then again some things are a blur.

Being a person that had cancer I learned to appreciate life more. Living life to the fullest is one of the things I try to do. Having cancer doesn't make you different it just makes you more special. Everyone wants to know what it feels like or how it happens. Sometimes I think about what it would have been like to live life without cancer. When I really think about it, it was really awesome being around new people and having my family together.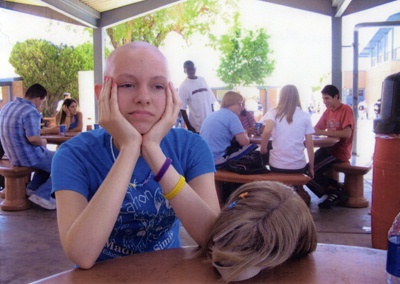 © Lauren M., Phoenix, AZ