The Perks of Being a Barista
MAG
May 3, 2012
I'm 18 years old. I don't have much in the way of world experience, and I don't know much about life. But a lot of what I do know I've learned by being a barista at Starbucks. Weird, I know.

This isn't just any Starbucks, though, and we aren't just any baristas. We're ninjas. Jellyfishing ninjas, to be exact. (More on that later.) That's what we call ourselves anyway. At our location, we have to be. See, day in and day out, we serve hundreds of customers and it can get all sorts of crazy. On top of a constant influx of customers, we also handle baristas calling in sick, running out of product, equipment breaking, and coffee travelers (the large to-go jugs). Oh, blessed coffee travelers. Just when you think you're getting caught up on brewing coffee, someone orders a coffee traveler, or three, and all hope of order is thrown to the wind. We're ninjas, of course, and restore order quickly, but that doesn't mean we don't get frustrated.

On top of this madness are the customers. With so many people coming in, we see the whole spectrum. It's through all of our customers that I am able to see a fully functioning ecosystem of people right under my nose.

There was a young couple that came in a few weeks ago; I'll never forget them. It wasn't long before we realized they were on their first date, and he was so proud to pay for her drink. We watched their date unfold as they got to know each other, sipping their coffee nervously. I think it went well; at least they did leave together. We were all rooting for them. We see our fair share of interviews, business meetings, and reunions too. I am able to witness people in love, people pissed off, friends catching up, people planning weddings, writers looking for inspiration. The coffee shop is always filled with the friendly rhythm of chatter, and the only time it empties is when we lock the doors at 10 p.m. I find myself accustomed to the music of words and people, and it is the silences I notice the most. There is nothing lonelier than silence and nothing more welcoming than people sharing a cup of coffee.

We have regulars, too, lots of them. Mr. Lee, my favorite, is always smiling, even if he's had to wait twenty minutes for his "triple grande, nonfat, no foam, one Equal latte" and chocolate donut. Or Jim, our resident "caf quad grande Americano" in a personal cup, who knows us all by name.

There are more, of course, many more. What I love about each of them is that they all brave the craziness of our store, sometimes enduring skyrocketing wait times, just to see us. It is the regulars who treat us most like actual human beings with feelings and lives, all of which they care about. We care about them too, and always offer kind words and an occasional free coffee. They have faith in us, which restores our faith in ourselves, especially since our new bosses seem to undermine our abilities at every turn. How bad can we be if so many people return?

At times, it's easy to lose faith in the human spirit after encountering rude customers. We deal with the epitome of rudeness with some, and there are countless instances I've had to stop myself from letting out a string of expletives in response to their behavior. I think that's the hardest part of the job – biting my tongue and smiling when customers throw coffee back in my face. Or are on their cell phones. Don't even get me started on the cell phones. Five seconds, just talk to me for five seconds while I give you your coffee. I'm nice, I promise.

Baristas interact with scores of people every day. Such is the case with many jobs, though, so what makes being a barista at my Starbucks different? It's the teamwork that ensues when someone needs an extra boost. We've got your back. It's the gentle squeeze when we remind each other to breathe. It's sticking up for each other when a customer puts us down. It's the love that lies underneath when frustration rises to the surface. It's the jellyfish, when we just need to have fun. And it's the resounding victory when we make it through another rush. We're in it together, like a family.

At my Starbucks, it's easy to get frazzled, frustrated, overworked, and overwhelmed. We jellyfish instead. See, the jellyfish is something I like to do when things get tense, the day gets long, or someone just needs to smile. I don't know if everyone else feels like I do, but I think the dance of the jellyfish is the greatest thing since the disco.

We're more than just a team on the floor. We're intertwined in each others' lives. I know that if something was wrong, one of the first people I'd call would be a coworker from Starbucks. We're all there for each other as people, not just as team members.

We are baristas. We are jellyfishing ninjas. And because of this, we are some of the greatest people you will ever meet. We find ways to connect with so many people, all while juggling countless other tasks, problems, and frustrations. We are strong, and we make some strong coffee.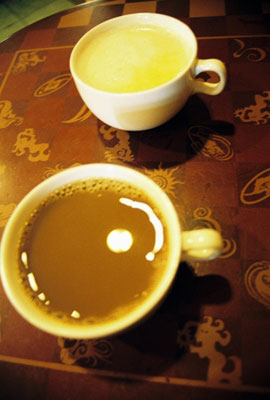 © Jaci S., Duluth, GA