For the Love of Reading
March 18, 2012
Ah, the Library. Quite a wonderful institution overflowing with knowledge, its waves splashing anyone who dares get wet. Indeed, I can't help but feel most content at the good ol' Safety Harbor Library a short bike ride away from my house. I can love its mothball meets Campbell's soup smell, always strangely present, even after last year's renovation. The summer before my Junior year, I spent a lot of my time at this Palace of Wonder. For volunteer hours, my work mainly consisted of the daunting task of book shelving- the Dewey Decimal system isn't my strong suit, okay? – and aiding children find books.

I saw so many kids toddle into the children's section. Their toothy grins would light up once gazing upon the puppets and picture books. What a sweet picture it was to see youngin's sounding out the words to such classics as The Berenstain Bears and Goodnight Moon. I loved receiving their bashful "thank you's" after helping them find a book or greatly approving of their artistic depiction of "Cindy-rella's gwass swipper." What a joy. Oh but sadly, not all are so adorable. Don't get me wrong I love kids, but I got my fair share of boogery high fives day in and day out. And the screaming and crying never ceases. It's like once a kid starts bawling, there's no turning back. I'd just put my headphones on, feeling compassion for the parents poking and prodding, trying to find the button to turn the dang things off. I wish I could say I loved every child who entered that room, but I guess my hearts a little cold. "Please stop crying. No, you shouldn't run away, Billy. Like I said, I'm so sorry I couldn't find a picture book where Winnie the Pooh fights zombies. Maybe next time we'll have that."

One day the library traffic was fairly slow, so I was sitting with some light reading of The Iliad. I saw a young boy, around 6, come in with whom I presumed to be his father. The boy immediately ran to a computer, and his dad stayed standing with a blank look on his face. The poor soul looked very lost. The man turned to me and said, "Please tell me you have a vending machine." I shook my head no and apologized. Dejected, he moped off and took the seat next to his son. Shortly, the boy came to my desk and asked "if he could please have some help." Delighted by his good manners, I walked to the computer with him to see that he was looking for a book, not just playing computer games. Alas! A fellow enthusiast! I thought. The computer system unfortunately wouldn't log him on, even though he knew his library card by heart. By heart. I couldn't even boast of that much dedication. I looked down into his curious blue eyes, and asked him if he'd like help finding another book as the computer was messing up. After I said this, I heard a snort to my left and "The kid's pretty _____ed up, right? All he wants to do is read." I turned shocked; not believing those words came out of his father's mouth. He had quite the scholarly vernacular to match the ketchup stain on his shirt. My fist was cocked, ready to introduce itself to his face. I regretfully held back, however, and focused on finding a good book for his son.

I was still fuming as I watched the odd pair walking out of the library- the precocious boy holding a few Magic Tree House titles, the man holding Entourage: Season 2. I can only hope that the boy stays a young connoisseur, dabbling in Judy Blume and Carl Hiassen, sampling Eoin Colfer and JK Rowling, eventually graduating to taste Dickinson and Thoreau. I truly hope the library will become his friend as it has become mine- for it will never leave your side. And perhaps the boy's brilliant father will have engendered enough teenage angst to produce the next best-selling author. Or maybe, and it's not likely, but maybe, some sort of tradeoff will be introduced. The dad can teach his son how to ride a bike, and the boy can teach his dad there's a world of literature outside of Playboys and the back label of a Budweiser.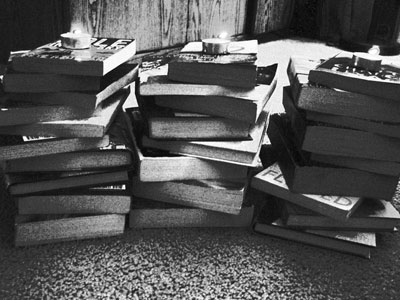 © Alexis R., Clarkdale, AZ