Why I Never Read the Last Narnia Book
February 19, 2012
Stories are like dreams. They're little pockets of fantasies in the midst of reality. That's why I read. I read to embark on a journey into magical lands where animals speak and the trees come alive. I read the Chronicles of Narnia because I wanted to know what it was like to have a magical escape to Aslan's country.

I loved the Narnia books. They were enticing, fascinating, captivating- everything I can't find in today's newly published realistic fiction books. For months, I broke away from the real world to have adventures I would never be able to have in my tiny hometown. But when I put down the sixth book, "The Silver Chair", the shocking realization that there was only one more recorded adventure of the comings and goings between this world and Narnia hit me like the sharp cold wind that met Lucy when she first discovered the enchanted country. I tried to open the cover of "The Voyage of the 'Dawn Treader'" to reread Edmund and Lucy's last visit, but I knew it wouldn't be the same. I knew they wouldn't be going back, and that ruined my whole outlook on their journey. It wasn't the same. But isn't that what Aslan said? "Things never happen the same way twice." Oh, Aslan!

So I never took the final book, "The Last Battle", off of my bookshelf, and that's where it still is today. I've convinced myself that if I never hear of the last known Narnian adventure, I can keep Peter, Susan, Edmund, and Lucy alive in my mind. They can keep hold on their magical dynasty, and all will be right in their kingdom.

I can't bear to believe Narnia can ever come to an end.

The lamp post will always burn bright in my mind.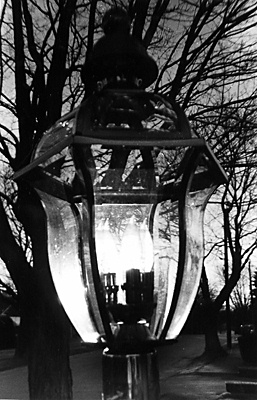 © Jimmy B., Marblehead, MA