Best Friend=Family
February 13, 2012
There was a point in my life where I was lost, and had very few friends that actually cared about me.

I was home one day sitting lazing on my soft kitchen chair. Depressed as usual, I stare out the window, watching millions of water droplets splash to the savanna of my backyard. The dullness of the sky did not help lighten up my gloomy mood.

My eyes then force me to follow a wooden drawer. Inside are what seem like a heaven of butcher knives, the nice juicy ones Dad uses for cooking.

Clank! I choose my pick, accidentally making a racket. I stare the knife down, checking my reflection while staggering back as my hideous face gives me a fright. I take the knife and aim for the soft palm of my right hand, because I need my left hand for school.

"We are leaving!" Dad shouts from upstairs, giving me a heart attack. The knife slips out of my right hand and grazes the right side of my right hand. It has done its job for me. Blood oozes out of my hand, as I quickly store the deadly utensil back where it belongs. Dad walks inside the kitchen when I finish washing the remaining tears of blood away.

"Where?" I quietly question. I can feel my voice trembling, praying he won't notice the clearly visible scrape. This is my first time cutting anyway, so he probably won't suspect anything.

"To the pool!" Dad replies full of excitement. "Your brother is bringing a friend! You can come too and bring a friend if you want."

"But it's raining!" I inform him. He points to the window. No rain, but the sky is as dull as it was all day. "Never-mind, I will get my suit on."

I look in the drawer where I keep all of my swim stuff for the summer. I discover a nice fitting swimsuit from Aeropostale-my favorite clothing store. I throw goggles over my head and tie back my tangled hair, after I shove my suit on.

Dad starts the car's engine, from what I hear outside. They all (Dad, my brother Ale, and his friend Anthony) must be waiting impatiently for me. I start to panic, and hesitate whether or not to bring my cell phone. Maybe I shouldn't because nobody texts or calls me, so what is the point? If I want a text, I'd have to spam my friend's phones before they would reply saying "Shut up" or "Sorry I'm busy, text you later (they never do)". Instead of grabbing my phone, I find a purplish pink flowery bag and throw some beach towels inside, to make like I am carrying something. Throwing the once lightweight bag over my shoulder, I head to Dad's year old Honda Accord and hop into the front passenger's seat.

"Hey Ash!" Anthony greets me. I turn my frizzy head and smile, giving a warmhearted wave. I couldn't talk, or tears would shoot out like a pistol with a mind of its own.

If only it is possible to control depression! From all the sadness that summend up today, I dozed off for the five minutes it took Dad to drive to the pool. My eyes struggle to open to the strong scent of rainwater mixed with chlorine. I looked up at the clouds-still dull.

Anthony and Ale ran up the wooden steps to the heavens of water. The heaven I dream of everyday is a whole different story. I love to swim, its a part of my existence, but not when I feel like vomit. I am starting to think I actually am vomit.

Dad reserves a wooden bench, painted blue, for the four of us, and orders us to dab on sunscreen. Why would we need sunscreen if there is no sun? "Just put it on!" Dad would probably say, so there is no bother to demand for an answer.

"Hey Ash?" Anthony asks, after socializing about nerdy things with Ale. "I have a question for you."

This is most likely one of his lame, loser jokes so I replied scowling and rolling my eyes, "What now? Just spray it."

"Who is your best friend?" Anthony challenges. Why in the world would he ask that? It's none of his business, but whatever. It wouldn't hurt to tell him I guess.

"Um, Jennifer I guess but-" he cut me off.

"-No, your family is. They are the ones who will be there for you, at all times. No friend is your really best friend except for your family."

A paralyzing shock sprung throughout my nerves as Anthony walks away with my brother into the pool. This was the biggest turning point in my existence of living, from only these 3 stubby sentences. Ever since I could remember, I never had a true best friend. Turns out my best friends have been by my side, before I could even speak. The shock reached all of my nerves and I expressed the first smile I noticed in awhile. I thought I felt a raindrop roll down my cheek, until I looked up and saw the famous golden sun reflecting my brand new emotions.

I decided that today I wouldn't go swimming in the ice cold pool water. Instead, I would spend time with Dad, who hangs around on the bench, watching the kids play. Not caring what anyone thought, I hugged my best friend, letting myself absorb the fact that I was never alone in my life.

I catch a glimpse of my other friends, waving me to come into the cool, refreshing pool. It was the first time they noticed me since school has come to an end. I reversed my head into Dad's direction, making like I never saw them before. I'll just save those complete strangers to deal with when school starts in September. I decided to hang onto my real best friends. The ones who will always be there for me, spend time with me whenever they can and would never say anything to anyone behind my back. Ever. They are known as family.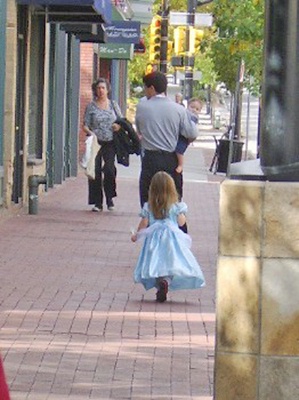 © Kristen T., Tulsa, OK