Becoming a Musician
January 6, 2012
When my mother said yes I could go to the concert with my friends, I got really excited because not only was I going to a concert that was probably going to be the best one of that year, that also meant I was staying the night with Cade. Cade was my best friend at the time, and I was really excited to see him outside of school because we almost never hang out.
We went to the concert. It took close to an hour just to get in before the doors were closed, so no one could get in who hadn't paid. Once we all were in, it took about thirty more minutes before any bands were introduced. When they finally introduced the first band who was The Ready Set, Cade couldn't stop talking about his favorite song by them or any of the other bands that were playing.
The Ready Set began to play their song "Love like Woe!" Every drum beat and guitar chord spoke to me and made my heart pound. They continued to play five other songs and the crowd around the lead singer's feet was cheering so loud it almost over threw the speakers and the singing. So far it was the best concert I'd ever been to. After The Ready Set was done playing and yelled out "Good night Florida! We'll com back as soon as we can." I knew that this I what I wanted to do for the rest of my life, I am going to be in a band and become famous or at least have a career in music.
Then Nevershoutnever! started to play all of their songs and with each beat my resolve that this would be my life increased. It was like this throughout all of the bands playing all of their songs. Music had begun to take over my life. During all of the intermissions I planned out with whom I was going to make a band and what kind of music I would play and I began to write a song in my head.
The whole concert was magnificent, and I couldn't wait to go to the next one that came in town. After the rest of the bands played their songs and had their encores, it only made me more certain that I want to have a career in this industry. We got in the car to go home, and I was speechless. Cade on the other hand, couldn't stop describing to his father how great the concert was and babbling all the way back to his house about how he loved every minute. I could only think about how amazing playing music must be for them.
I recently got a guitar and I am now I'm in a band pursuing my dream of being famous and playing music around the world for all to hear. I'm a fast learner and I pick things up quickly. So far I have learned seventeen songs and I got the guitar on Christmas, twelve days ago.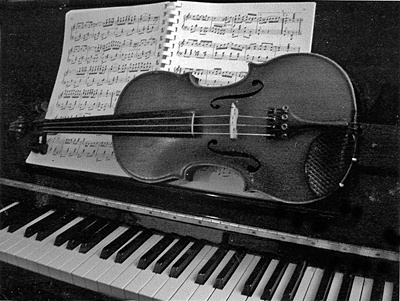 © Edwyn A., Chula Vista, CA