After The Matrix
November 8, 2011
I know it may seem boring in the beginning, but please read until the end!!

Last night, Monday, November 5, 2011, an astounding thing happened. At around 8 o'clock last night, my father and I turned on The Matrix, which we had started early Saturday morning and stopped halfway. Now, to give a little back story as to why a thirteen year-old girl is watching a rated R movie with her father, I shall explain how it began.

On Thursday night, I was sharing with my father something that I was writing. I am a freestyle writer, and I don't usually write an outline so much as just typing as I go along. I was showing him my outline, and he began asking many difficult questions about where the plot is going, what the main conflict is, why are various things important.

There were questions that I could not answer, because I had yet to complete my outline. Then he told me that my main character's walk sounded like something a little like The Matrix. Then he began telling me about the plot (not in detail as to give spoilers) and how this guy is The One, and he has to do all this stuff to figure out why and all that.

He told me, "When I get a free minute, you and me are going to sit down and watch The Matrix."

Now, I'm a pretty sensitive person. I can't really stomach a lot, like burnt people (poor Dozer. Cipher you jerk!!), or needles (sheesh there were lots of those), or bugs being inserted into people's belly buttons. It just kind of creeps me out. I can't even watch stuff like The Mentalist after it starts to get dark...

So anyway, that's how we got to watching The Matrix. I awoke at 4:40 on Saturday morning and could not fall back asleep. So I got up, read some… well… a lot of Brisingr, until my dad got up a few minutes before seven. I was eager to spend time with him, so I asked him if he had a spare moment or two. He said he did, so I suggested we start watching The Matrix.

Stuff like that in the morning, I can handle easily. Stuff like that at night on the other hand *shiver*… not so much. So last night, if you've seen the movie, I asked my dad if we could stop watching as Trinity was in the helicopter flying Neo and Morpheus away from the Agents.

I had been dealing with a nervous, anxious feeling in the pit of my stomach for a little while. A feeling that I am all too familiar with.

I exited the family room, passed through the dining room, and straight into the living room from there. My mom was lying on the couch with the dogs curled up with her. I got up on the couch and told her how I was feeling. My dad came in and sat on the couch as well.

I don't remember what my mom said, but I do remember telling my dad that, "At my age, this might be a good time for you to start understanding where my boundaries lie as to what I allow into my mind." Said in love, of course.

He said, "Thanks for letting me know."

Bits and pieces passed through that conversation. My dad excused himself to take a shower, and my mom got up to go to bed.

"Pray with me," I asked of her. She smiled and sat back down. She held my hand, and I started praying silently.

"Do you want to pray out loud?" my mother asked me after a few moments. "It helps sometimes."

So I began praying aloud.

I asked God to remove the feeling in the pit of my stomach. I asked Him to lay His comforting hand upon me. I praised him for being omnipotent, omnipresent, awesome, loving, caring, and merciful. By that time, the feeling in my stomach was gone and I was just talking to my heavenly Father.

I asked Him to keep watch over me and to remove all of the unwanted images from my mind. I didn't have time for them. Still don't. And for some reason, I felt upon my heart to pray for lower crime rates.

I said, "Lord, I don't know why, but I feel like I need to pray for lower crime rates. I don't know why, but I am; and if this is something that you put on my heart, then I will pray for it daily."

Then I went to the den, which is connected to my parents' room and the hallway, and laid on the futon. The futon in under the window, and the window is facing the side yard, so we keep the window open. From the futon, gazing outside, I beheld a beautiful and bright gibbous moon. Don't forget Venus! I felt such a sense of peace and tranquility.

I asked God, "God, please help me focus on You. You are Truth. You are the Truth. You are Love. You are Wisdom. You are Comfort. I know the truth, and I know that You are looking down upon me with love," and I felt it saturate me.

I know the truth, and I know that the Truth is also Love. I thank God for being there for me and giving me peace of mind when I have none.

I hope you read to the end, and that it made some sort of impact. This is my God story.

What's yours?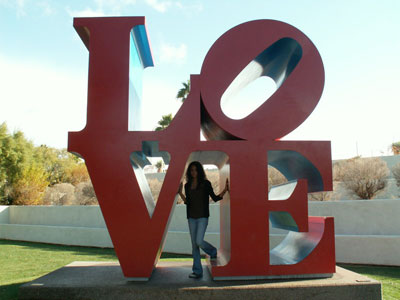 © Shannon E., Glendale, AZ