The Strongest Man
September 13, 2011
The temperature tottered around 50°F all day, but now that it was dusk it plummeted to a startling 48°F. The rain continued to come down and we waited for Noah and his animals to stop at the front door to take us away at any moment; it was the dead of winter in Dallas, Texas. The small building emitted the odors of mint, flowers, and age, all together, as people walked around greeting those they had not seen in a long time. A young woman sat at the furthest seat in the room in order to not have to speak with those who had already arrived, because she knew almost none of them. After almost an hour the man that the girl wanted to see so badly, but also wished she did not have to see, came into the room. He hugged many people around her before it was finally her turn and she got to embrace him. Now his head barely exceeded hers' at 5' 10", even though he had once stood at 6' 8". His hair had become whiter since the last time they saw each other, but he still looked very proud in his sport coat. He shook worse than he had two years prior but he smelled like the home she wished she would never have to leave. Everyone was called into the room where they were confronted with the dearly departed, Lois. The service was filled with sadness mainly, but some laughter when the minister made a joke about something Lois had said. As the service was ending everyone was allowed to chat in the room and the young woman immediately went to her Uncle Ivan's side and smiled towards him to try to keep from crying for him.

"You certainly are a Smith, my girl!" He laughed in a way that reminded her that this man would soon likely follow Lois. Although he was the youngest of her grandfather's siblings, right after Lois, she did not know his exact age. She could never bring herself to ask because if she did she would be reminded how close he was to his last day on earth.

"I will take that as a compliment."

His eyes seemed to widen, "Did my brother ever tell you why that slightly crooked tooth you, your father, and I have is so important?"

She shook her head quickly, even though he and her grandfather had told the young woman this story countless times. She lied just so she could hear his soothing, deep toned voice that reminded her so much of her grandfather.

"Well," He said as he put his shaky hand on her broad shoulder, "During World War II, when my platoon was moved to a station in France the leader and I went to meet the two men leading another platoon we were supposed to be meeting. I smiled towards them and suddenly one of the guys in front of me that we met grabbed my shoulders," He then grabbed her other shoulder, "The boy let out a laugh and then said to me 'Is that you, Ivan?' and when he smiled at me I realized it was your Pop! He recognized me from that tooth you have too!"

"Wow!" The young woman said as she let out a small laugh. She watched as he let go of her and went over to the casket in the front of the room that was covered with flowers. Great Uncle Ivan took his older sister's hand in his and spoke to her sweetly. He seemed to speak to her as if she were lying down with her eyes closed and would rise at any moment to walk out of the room at his side. The young woman was too far away to hear him but she watched as he kissed his sister's cheek and then smiled as he shook her hand slightly just as he did every time the young woman had seen them together and she was forced to leave. The young woman's attention was brought back to his face and she watched as he said 'You be good now, ya hear?' before returning to the group and joining in on the group discussion as if it was any other type of family reunion.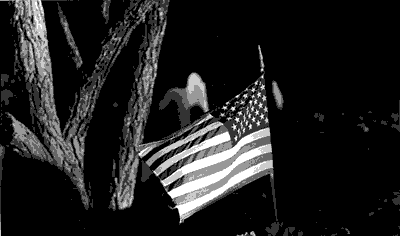 © Photo by Kimberly R., Marblehead, MA