Near Death Boat Ride
July 12, 2011
Waves splashed against our faces as we rode in the boat. We were rocking side to side being his again and again by the waves. From the distance I could still see the fireworks brighten up the night sky, but they soon came to an end.

Now every boat was rushing to get back to the docks and head back to camp. Our boat was small compared to alot of the other boats, and to add to the horror we didn't have a light. Of course we had the dim little lights that came with the boat, but the weren't helping much. The only light source we had was the flash light of a i-phone. Which Seth was holding at the edge of the boat. But it didn't help.

Still boats came at us on all sides. They were booking it and causing so many waves in the process. Our boat is just a fishing boat so it doesn't handle these waves well. Hence the reason why we're rocking around so bad. Everyone is on edge gripping onto anything. I'm scared to death sitting in the middle of the boat. My two nieces have their life jackets on but it wont do them any good if we flip. Boats will still hit us causing our death. All we could do was pray we would make it to the dock.

You'd think I'd see my life flash before my eyes seeing as how I could possibly die tonight, but all I'm thinking is, why did I make stupid death jokes. The whole afternoon I was making jokes about never making it to 17. Never to see my favorite band in concert again or meeting them. I thought to myself how stupid I was to joke like that. Because at this moment those jokes don't seem as funny as they did earlier.

After almost hitting a dock and nearly getting ran down, we finally made it to our dock. We got off relived to be on solid ground again. We made our way back to the cars happy to get home, and spend Fourth of July at the Shannon Center.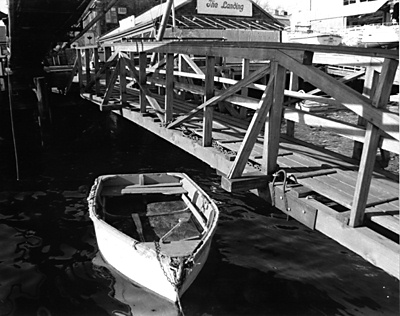 © Megan S., Marblehead, MA