Part of Me
April 22, 2011
I see it in everything that I do.

I see it everywhere that I go.

I hear its distant echoes in the back of my mind as I haphazardly make my decisions. I feel its weight on my shoulders as I go about my daily routine. I feel its strong disapproval as I take steps forward, far away from the place I used to know.

I see its reminisces in my dreams and I feel its gentle caress on my pillow. It taunts me as a scorned lover would, only to disappear in the warm glow of the rising sun, beyond the folds of a new day, leaving permanently etched impressions carved alongside the grooves in my brain.

I know I'll always live with this. I know there is no escaping this. And I wonder if, perhaps, I've learned from this.

Is seeing its blunt knife near every other thread I know and remembering the feeling of cold steal edging its way into my chest the same as learning? Could one confuse the feelings for just a moment, just long enough to confirm my deepest fears?

Is repenting far more than it's worth—is asking "what if" and "what about"—is wishing on shooting stars and praying that one falls to earth—is all of that learning what I've done wrong? Or is it merely paying the price for my terrible act of the heart? My crime, my sin, caused by love?

I see it in everything that I do.

It follows me like a pearly-white ghost and though I can't reach out to touch it—to hold it in my hand and call it mine—it can grasp me by the neck and squeeze until I choke. It can take my breath away. It always could.

And it follows me.

I can no longer feign ignorance. Thank you for opening my eyes and breaking my heart.

I see it in everything that I do.

It is a part of me.

The very best part.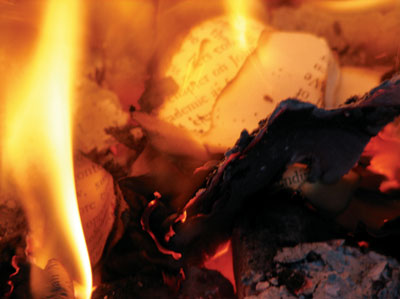 © Elizabeth H., Jordan, NY