The Way of Life
March 29, 2011
After school today, i got home and my mom told me and my brother to come into my parents room. So my brother and i are sitting on the bed next to my mom. She says that our 3 dogs escaped from the backyard today. And our dog, Charley, got hit by a car. He didn't make it. That made me cry. It made my mom cry. It made my brother cry. We had only had Charley for about 2 months, and his birthday had been only a few days ago.

That's when i realized this is the way life goes. Everyone dies at some point, and it's always sad. Especially when that person or anI'mal didn't get a chance to live. Charley was only about a year old. Hearing that he was dead made me think about life and how things change everyday, for better or for worse.

For a while now, I've been feeling kind of down, kind of sad, kind of like i want to just disappear. But i don't disappear, or kill myself, or anything. I think it's mostly my friends and the people around me that make me feel this way. Yes, my friends pick on me a bunch because I'm probably really vulnerable. I just realized that the other day. I'm really vulnerable, and i don't want to be. I want to be like my friends. I want to be strong and brave like them. But then i realize that i am. I realize I'm strong because i try not to let people bother me and i try to ignore them. I'm strong because i can keep my emotions mostly in check and keep the words I'm thinking inside my head. I'm brave because of the friends i have. They can be bad influences sometI'mes, but they are mostly good. Cussing can be a problem, but i don't let it get to me. I don't cuss, but there are tI'mes i wish i could cuss without people freaking out about it. I'm sure some of my friends think I'm a goody-two-shoes and that i wouldn't cuss. But in reality, i would. I would probably cuss a lot.

So my friends bug me sometI'mes, and Charley has gone to doggy heaven. I've laughed, I've cried, now i just want something really good to happen.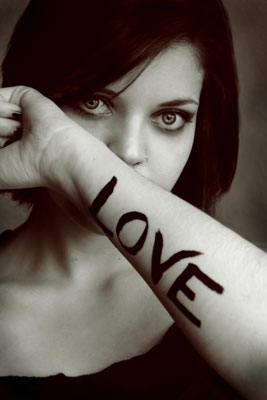 © Michelle B., Blairsville, GA