Lightness of the Dark
March 20, 2011
Something pulled me to the Earth that night: an invisible, threaded string interlaced through my dynamic body, drawing me toward the living, breathing, pulsing ground. It was dark, that I remember. And warm, the air filled by the merciful mid-Atlantic breeze that always arrives before the oppressive heat as if to say, "Sorry for what's to come."
Oh, how I sprinted, faster than I had for any sport, slicing through the fresh air, my feet effortlessly springing off the spongy turf.
I ran.
I ran and ran.
I ran into the night, into the pure definition of what it means to be free. The stadium was doused in black, but I just kept leaping through the adventurous safety of liberation, my toes speaking to the earth, my soul beating to the rhythm of the world's cadence. I collapsed next to my best friend, and we sent laughter to the stars. There we lay in partnered solitude as the clock approached midnight, allowing the delicate gusts of wind to kiss our skin and dance in our hair. The night had released us. I closed my eyes and felt the Earth, imprinted into the curve of my back, and breathed a sigh of blissful contentment. I looked over.
"These are the moments we live for."
She could only nod.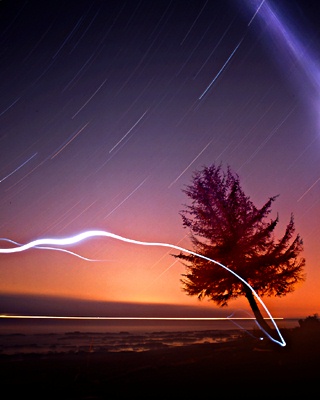 © Joey M., Spokane, WA