Perfection is a Dead End
January 22, 2011
Mistakes are unacceptable. Evaluate yourself, find the flaw, and correct it. Expose the defect and eliminate it. I have believed this precept for my entire life. I can do more. I can do better. Be the best. Don't let anyone get in the way and don't let yourself make excuses. Perfection is possible, attainable, and necessary. I was wrong, and believe me, there's nothing I've hated more in my life than being wrong.

I've strove for excellence my entire life. Even as a little kid, I devoted myself to activity books. I timed myself while scrawling in the answers to math problems, while chastising myself for not achieving the record. "This is disappointing," I'd say to myself. "You need to do better." I wrote multiplication tables until I was flawless. Getting even one sum wrong was not tolerated. I'd punish myself by making myself write the whole set ten more times.
I worked as hard as I could in school. I shot my hand up whenever I knew the answer. I did every extra credit assignment, despite my grade. I did every homework assignment, refusing to indulge any tendency to slack. Tests became all-consuming. To me failure no longer started with an F, it started with a B. I began to judge everything upon my grades: my future, my worth to society, and more importantly, my self-worth. Class rank became a leader board of value. I grew angry at my grade point average and myself, chastising myself for not taking that extra AP class.

I joined the cross country team in high school to make friends, despite the fact I had never even ran a 5K before. Nothing before encouraged this tendency as much this new activity did. I refused to allow anything but a personal record every time I lined up at the starting line. I forced myself to never accept anything but improvement. Anything that did not reflect achievement could not be accepted. After every race that I failed, I punished myself by running a brutal workout the next day. After missing my best time by a second, I forced myself to run up 50 flights of stairs. Pain was nothing and failure was agony.

I stayed up all night to win awards in service, in scholarship, and in moral character. I wrote long-winded essay to convince panels of adults that I was an upstanding person. I did everything possible to ensure perfection. Then the biggest rejection in the world arrived. "We are sorry to inform you that we cannot offer you a place in Columbia's Class of 2015." So clinical. So cut and dry. Four years of work down the drain. My mind raced with frustration. Couldn't they see how hard I was trying? Didn't they understand how much I wanted it? Couldn't they see what I had given up?

I've waiting far too long to happy. My obsessive need to be perfect has not yielded fruit. Although I have made many friends throughout the years, I have always prioritized perfection among all. It's time for me to discover why I matter and what makes me valuable, rather than searching for it on engraved plaque or a transcript. Wish me luck.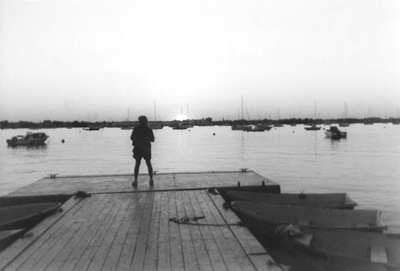 © Lindsey D., Marblehead, MA