Living With Regrets
December 4, 2010
It was 9th grade. English was my favorite class, not because I was in love with the subject, but because I loved sitting in front of the boy that I couldn't get out of my mind. We'd make jokes and giggle, he'd poke me and annoy me, and he'd put on the glasses that I dreaded having to put on. As I sat there in class each day, I'd imagine us together. I'd beg for the class to go by much slower; by the look in his eyes, I knew he was doing the same.
There was this one day that we had happened to be in the computer labs. We were assigned computers next to each other. Once again, we were goofing off, letting time fly by effortlessly. The only thing that makes this day different from all of the ones before is that there were a few extra words said that changed everything.
As I got up to talk to a friend before the end of class, he asked me that question I wanted to hear so badly. As he mouthed the words "will you go out with me", time finally grew slow. I couldn't catch my breath. This is the moment that I regret.
I let him get away. I don't know how it happened, but I ran. What was I afraid of?

Ever since that moment, everything was different. English wasn't the same. Soon after, it was the end of the semester and we got new schedules. My new English class was so different. I hated it. We didn't see much of each other anymore. I escaped from his mind, but I couldn't say the same for me. He was still on my mind all of the time.


Last summer, the summer before my senior year, I found him on facebook. As I scrolled through is "info", I caught a glimpse of his relationship status; it said "in a relationship." Just like that one day years ago, I couldn't catch my breath. It hurt so much; it was a stab in the heart.
I wasn't expecting him to waste his life looking for me, but he didn't even fight for me. I let him get away, that's my fault. Now every time I think of him, I regret letting him get away.
I know you're supposed to live life without regrets, but I can't because I miss him too much. If I could go back, I would, no doubt.
I just hope that there is a reason for us not ending up together; I just hope there is someone better that I am suppose to wait for.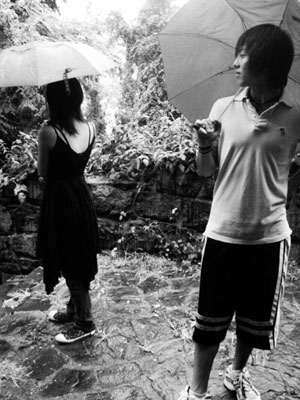 © Yuki M., Fort Lee, NJ