Crushing
October 4, 2010
Ok, guys, here's a secret about girls: If you have a friend that's a girl, and she hangs around you all the time, you text and talk for hours, emails exchanged constantly, and they happen to just always be wherever you go, they like you. You'd think that it'd be common sense, but no, guys think of them as "just another friend". Here's a rule for all of you: Don't flirt with her and then act like it doesn't mean anything.
I'll tell you why. For the past two and a half years I've liked this guy. Let's name him Sam. Sam and I met in 8th grade art, and by the first day, I was crushing. With a mixture of cute and hot, he was oh so attractive. Straight, black hair that he fiddled with when he was bored, and eyes that seemed to make me smile every time they looked in my direction. And despite the fact that he's 10 months younger than me and a grade below, he was mature.
One day, I made the mistake of telling two talkative, gossip seeking, classmate girls about my crush. In which they then decided it was their duty to tease him and hint about my secret. He responded by winking at me and then flirting.
When I moved to high school and he stayed behind, I never gave up. Talking through email and texting, our friendship continued. But he never asked me out.
Notebooks were decorated with his name in doodles, and teachers scolded me for constantly daydreaming. School bullies then saw an opportunity to tease me. Stealing notes from my friends as I were reading them, taking my backpack and emptying it out onto the floor to look at my notebooks. They then concluded that I had a crush on a guy that was younger than me and a grade below. Just the details they needed.
My locker was then decorated with vulgar things. The nicest of them were; "cougar"& "crib stealer". It never stopped. In class, peers whispered things into my ear and notes passed across the classroom, ending with me, names burned into the page. In the hallways I ducked behind corners and tried to blend into the sea of people.
When he finally graduated, I was a sophomore, he a freshman, I was ecstatic. We continued the routine we had before. Flirting, walking the halls together. My longing for the words, "Will you go out with me?" ached in my heart.
For this entire time, I had said no to every boy that had asked me out, and had ignored any that had flirted. My first kiss had not yet occurred, my first boyfriend was non- existent.
After two and a half years of this, my best friend was tired of it. Rant after rant, countless hours of day dreaming, pestering whether or not if she thought he liked me. She was done.
Walking right up to him she flat out asked him. "Why haven't you asked Ashley out yet? Do you like her or not?" And his response was, "I only, and have always, liked Ashley as a friend."
When I heard his words from my friend, I lost it. Mascara exploded all over my face, my body shaking. She held me until my sobs ceased, and then held me some more.
My world collapsed, and the two and a half years I spent day dreaming, waiting, and suffering, were spat on with no mercy. The words on my locker became a blur, and my life faded from existence.
Now, I try not to notice the soft black hair, and how much I want to see if his hands are as soft as I think they are. Pushing the thought from my mind, I continue life as it was before. The bullies have settled back into their holes and the locker has been scrubbed clean. But I know I will never be the same.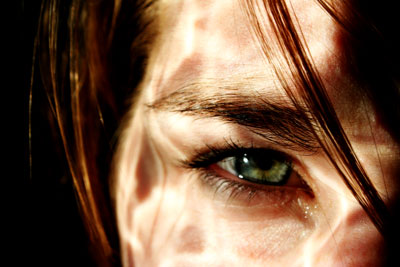 © Monica L., St. George, UT