Nervous
October 3, 2010
I'm shaking. I've never been this way before; I guess it means a lot to me. I know it seems silly, but I'm waiting for the musical cast list to be posted, and I think I'm going crazy over it. My hands can barely type, my heart is pounding, and all the while that weird feeling never goes away. It's the only part of this that never does.
I've been drawing out the minutes, trying to make everything last longer than it should, but that never helps. My hair is still damp; I remember how horrible the shower was. It only gives your hands something to do, so my mind was free to wander. Doubting myself, then encouraging, then back in the dark. Not something I want to relive. 11:30, why can't it be 12:00 yet? School was hard enough today, but this seems like torture.
I've been trying to find out why this means so much to me, besides the point that I love to perform. Here's what I've come up with: it's my last year at the middle school, and I haven't made in the musical yet. I've made great friends who I know will get in, and that will be really special if I get to spend time with them. I've gotten better; I know I have. Vocal lessons and another year of choir and dance helps, along with the performances I've done. I have to make it.
11:39, oh, I wish I had a time machine! How did I make it through the day, let alone the week? I can flash back to when I got on the always-yellow bus this morning, seeing my friend Ally, who tried out as well, and counting down the hours till the list was posted together, we came up with sixteen, or was it fifteen? I can't think to count at the moment.
I'm constantly refreshing the musical website, hoping for an early post, my efforts in vain. I only have to be better than two-thirds of them, I remind myself. In the auditions, I knew I was better than one-third for sure, and better than at least half of the second-third (if you get what I'm saying). That feeling's growing now, what will it be like in ten minuets, three minuets before the list is posted?
I had promised to call Ally today, three minuets before the list is up, which is in three minutes! That way no one will have to tell the other bad news. I'm scared, or maybe it's the weird feeling getting even stronger. How horrible would it be if the computer shut down just before the list is posted? I'd be heavily relying and Ally. Oh no, one minute!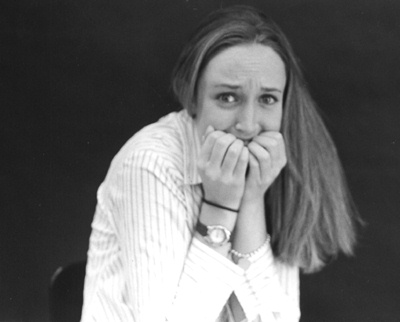 © Kathryn P., Marblehead, MA