Weeds in the Garden
September 21, 2010
It was the day after Memorial day. I was in the Admin building out at camp when I got the message that a long time friend was in the hospital. When I got home that weekend I went to go see her. When I got there she was glad to see me, but only partially awake. It was then that her mom explained what was going on. She had been having trouble swallowing and they thought it was stress. It was a probable cause considering her parents were getting a divorce and had little money. They had done bunches of tests to find out what it was. All that we knew was there was a tumor.
The tumor started at the bottom of her throat and went down wrapping around her stomach and intestines. It was the day after the 4th of July when we found out it is a rare cancer. It was the middle of the summer and I was going out to camp every week teaching first aid and emergency prep to boy scouts. Every week I thought of her and wished I could be there for her because she's one of my greatest friends. She's never cause me drama and is always there for me. Every night I sat out on the porch of my cabin with another staff member who is going through a similar issue.
When summer was nearly over and they had put together a treatment plan I was sitting in her hospital room with her while she was getting her chemo. It was then that her six year old brother (who thinks we're married) asked me what's wrong with his sister. I tried to think of how to explain the situation to him without confusing him or using big words. I told him she has weeds in her garden. The cells in her body are like flowers, and every once and a while a garden will grow weeds, or abnormal cells. He then had a better understanding of what was going on, and I am grateful to my second grade teacher who used those words to explain cancer to me when one of our classmates got it.
My friends little brother went home that day and planted a garden of one flower. Everyday she survives cancer he plants another flower and plucks a weed. Every time he runs inside and yells "I got one, I got one!" it restores our hope for her. It reminds us that she is getting better and that the tumor is shrinking. It also reminds me that its the little things in life that matter, because it's the little things that make up the big picture, just like adding one little flower each day ends up making a beautiful garden.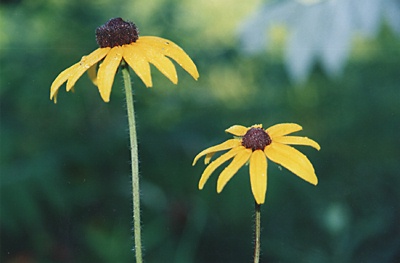 © Allison S., Eau Claire, WI