That November Night
September 12, 2010
His breath drifted up in a moist cloud, warming my face with the scent of his favorite mint gum. My hair cascaded down around our faces like a golden veil. Despite the chill of that November night, his body under mine kept me warm. Inside and out. His glassy, hazel eyes melted into mine. I smiled, leaned down, and pressed my lips to his. I could feel him trembling under me. I was trembling too. His lips were warm and soft, and his kiss made me feel as if I was curled up in a wool blanket with a mug of hot chocolate. My heart raced as I entwined my pale fingers through his thick, dark hair. His strong arms circled around me, and he hugged me closer to him. I could feel his heart beat steadily with mine.

A chilly breeze blew through, waving the tall brown reeds that surrounded us. Above us the stars glistened bright and proud. The milky way spiraled across the night sky like a silver ribbon. The moon smiled down on us as we lay in the field. The butterflies in my stomach fluttered with exciting passion. I held my breath as he swept his lips over my neck. His arms constricted around me as he kissed my throat. I brushed my lips against his ear and whispered ever so softly…. "I love you." He slowly pulled away from my neck and looked up into my eyes. I could see the stars as they danced there. My own face looked back up at me from his pupils. And then he smiled. His teeth shone ivory in the darkness.

I could feel his hand slide around my neck and up into my hair. He gently pulled me down so my forehead was pressed to his. He kissed me, barley touching my lips and said, "I love you too. For ever and always." I felt him trembling again. I smiled and placed my hand on his cheek. I closed my eyes and prayed the night would never end. That chilly November night was the best night of my life.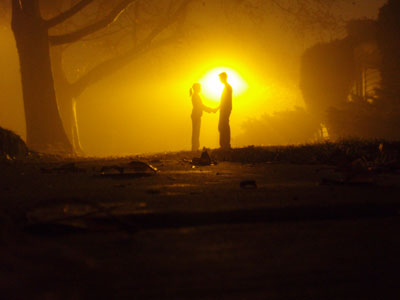 © Tanner H., Kaysville, UT