Dropping Off the Face of the Earth
August 21, 2010
"Hey, I'm just moving out of state. We'll keep in touch – it's not like I'm dropping off the face of the earth." It should be said with a laugh, or, if texting, with a smiling emoticon. It helps to ease the pain of separation, to comfort the friends who are sure they can't live without you. It's therapy for them, and, if you work it right, therapy for you. Assure them and yourself that, seeing as though you are friends now, nothing could possible change when you move. After all, it's not like you're dropping off the face of the earth, right?

I have used those words countless times, easing countless friends into the reality of my departure. Some are best friends I am moving away from after years of growing close, some are people I think are nice but haven't gotten a chance to get to know, and once it was even a guy I met on a five day vacation. We'll keep in touch – I'm not dropping off the face of the earth, am I?

But I do. At first we talk often, maybe even daily. "I miss you so much!", "Me too!", and "You need to come back because I miss you.". But then the conversations lesson. "You'll never guess what happened!", "Do you know what I did?" and "You should have been there." Eventually you start to forget how it was when you were together. "I haven't talked to you in ages – what's new?", "So-and-so and I had a great time the other day. Oh, I forgot to tell you, she's this great girl I met, we're like sisters." and "My new house is great – I was exploring the property with the neighbor girl today. Hey, didn't we do that? I think so."

You don't try to drop off the face of the earth, you really don't. But eventually, inevitably, you and your friends move on with your separate lives. If you're lucky, you still talk, but it doesn't feel as intimate – you aren't in tune to every detail of each other's lives anymore. You have new friends for that. Slowly but surely, you have dropped off the face of the earth.

And the worst part is, you knew it would happen. You've done it before; you've seen the same results. You just couldn't break that to them, they wouldn't understand, nobody you leave behind understands. So in two or three years, when it's time you leave again, you will lie to your brand new group of friends. You will let them hope for the best while you prepare for the worst, knowing all along that eventually you will drift apart, so smoothly it won't even hurt. And you say you're goodbyes, though you are flippant about them, as if they won't last. You'll stay in touch. After all, it's not like you're dropping off the face of the earth.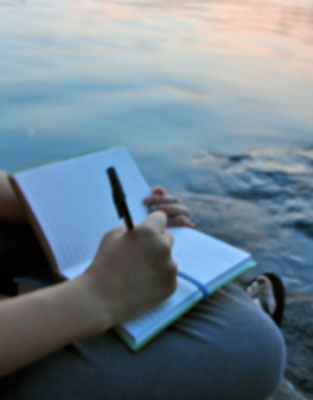 © Grace K., Port Washington, NY