Mind Over Music
March 28, 2010
I'm getting married. Not really. Only someone in dumb puppy love would get married at my age of 17. What average girl doesn't want to? Who doesn't say "at least that part of my life is over?" The whole getting to know them, all that flirting and stuff is done now. Here is a story about me and him and a piano and a big mistake. You might think it's sad, heartbreaking, ironic even, but don't worry you'll get over it. I sure did…I think.

Camp is really the best place to fall in love. Not really. A week-long journey escape from the real world- out in a tall building in the middle of nowhere, surrounded by trees and trailers and cows and new faces. He was from Montana. I've never been to Montana. I probably never will.

The hottest guys are always full of themselves. Not really. It stinks because you want them to be mean, and you want them to treat you bad because they're so beautiful and they can. Why did he have to be so darn nice? His name was Johnny, and he was so darn nice. Such long legs and a tall lanky frame, as tall as I really needed him to be. Tall enough to do-si-do in a square on the concrete floor. And tall enough to nestle my head on the shoulder of his flannel shirt when I hugged him goodbye.

The piano is only for making music. Not really. For us, the piano made love. When he sat down, I could sit down too. No reason needed, no reason asked. We played whatever, it didn't matter to me; I was with him, which was all that mattered. Four hands tapping across the keys, coming closer and closer together; two heads focusing on the music, and a melody forms. Then it stops.

"I'm going home tonight." I said quietly.

"What? Why?" he said, and stopped playing. I looked over at his questioning, confused face and there was a pang in my chest. Was he actually going to miss me as much as I missed him already?

"I-I had a sort of emotional breakdown last night, my mom wants me to go home now," I confessed. I wasn't lying; it's true, I did.

His mouth almost smiled, amused. But I didn't mind his lack of seriousness; it just made him look more adorable. I sighed as I looked longingly at him. How could I care so much for one person?

"A breakdown? Over who? Timmy?" his voice said, playing through my head like the notes on the piano before us.

I snapped out of my thoughts. Oh, Timmy…he thought I was sad because of Timmy. Timmy was Johnny's best friend, and he was really just a friend to me. No, Johnny, it's all about you. Why can't I say it though? My mind is resisting a revolving door, I want to tell him. But I can't think, I can't tell him properly. No amount of preparation will help me. My head is spinning from the pressure of what lays on the edge of my tongue.

It's lost. "N-no, it's not because of him." I blush. It's because of you. Just like that, the only opportunity I would have in my entire pathetic life is lost. It's forever vanished in the vast expanse of time, in the endless depth of my thoughtlessness. I think about it now and persecute myself because of what I didn't say, or maybe what I couldn't say for fear of something else that would have never happened. What would have happened? Would he have stopped, taken aback? Given me a knowing smile? Tell me he loved another girl? I don't know; don't ever ask me, I'll never know.

One year later, he's getting married. Really. But not to me. The lucky bride is Sarah. Sarah who is more fun, beautiful, and more confident than me. Sarah who he met at camp way before I could even find the courage to talk to him. I don't think I could have married him anyway. Those nice guys have always been my downfall.

Down I did fall as I broke into tears for the second time that week at camp. Collapsing into the safety of his arm's strength, I felt a familiar sadness in the pleasant scent of his cotton shirt. The first breakdown was about him and everything- my family, my life, and my friends. Now, it was just him. I took a long, deep, painful breath of air through the coarse fibers of his shirt. Once again, someone I could comfortably live with for the rest of my life would slip away because of the frail power of my self-belief. I deserve nothing more than what I received. Of this I am assured. Really.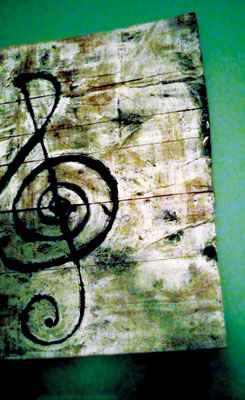 © Olivia K., Canton, OH