Lost Child, Mother's Love
March 14, 2010
I lay unconscious, on the other side of my bed, underneath the lamp shade, slumped against the side table. I was overcome with a feeling of nausea, but this was oh the more difficult because my legs semed to have been paralyzed. I couldn't move without clinging to some wall, else my legs would turn to jelly and collapse underneath me. I made it to the bathroom but soon found myself fighting back the urge to throw up. Yet, it was a battle I could not win. I began to throw up profusely all over the sink and toilet seat and inside of the tub. Suddenly, my head began to throb, my heart began to beat erratically, my eyes began to flicker, as I faded in and out of consciousness. Then, without warning, my vision flickered once last time, then faded to black.

I woke up to the sound of birds singing coupled with the clank of pots and pans from downstairs. I wondered where I was. My head throbbed with pain. My heart seemed to skip between beats. With some effort, I managed to open my eyes. The television set was off. The door was closed. I looked around the room and suddenly realized that I was in my mother's room. I saw that there were many pictures sprawled across the bed beside me. I took a few of the photos and began to look through them. They depicted of the many times that my mother and I had gone to the park to feed the geese and ducks. My eyes blurred with fresh tears.
.
I was her son, he who had once fallen down and scraped his knee and she had attended to my wound. Her son, whom she had taken care of when he was sick with the flu. Her son, whom she had brought into this world and had looked down upon with eyes that only belong to mothers. I was the young boy whom she loved with the love of a thousand mothers. And I now know that she probably wondered why last night, that wasn't enough. Just then, the door slowly creaked open, then swung open wide. My mother stood in the threshold, lower lip quivering, eyes shiny with tears. She ran over to me and held me in her arms.

I became lost in her loving embrace, shielded from the world. Nothing else mattered except for that one moment in time in which I felt secure yet still I was afraid that like so many times before it would not last. Yet, she told me that she would never let anything happen to me and that she was sorry and that I should never have to feel like I needed to take my own life. I tried to tell her that I loved her and that I was so sorry for what I had done but the words were lost within the sobs. I broke down and wept in her arms, regretting the hurt and sorrow that I inflicted upon her heart and wishing that I could take it all back. But I knew that I could not.

So I wept, and she wept, and the little boy within wept, and we both fell asleep in her arms, and for the first time in a long time, our nightmares turned into dreams.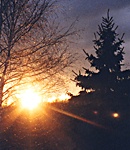 © Christy S., Germantown, NY