A Musical Fantasy
February 5, 2010
Emotions were high, bodies were bursting with excitement, and screams were deafening the words of speech. The show had begun. Chills travelled throughout my whole body, making this electrifying sensation even more irresistible. My mind went out the door as I was soon trapped in an unthinking stupor. It was too much of a dream. But then as if by magic, I was snapped back into reality as a lone figure rose onto the stage. I was at once entranced by this single spot where a human-like form stood.

The stage was like no other. It was custom made for her world tour concerts. It was a white wonderland, filled with spiral staircases and gleaming bridges. The luminous iceberg-like mass on stage was ready to entertain the eyes of the music-starved audience. This ice masterpiece was to have patterns, splashes of color, and words projected onto its white surface. My eyes couldn't exactly capture what was being painted on the mystical platform. It was quick. Images moved from left to right, up and down. I couldn't take the chance of blinking and missing the artwork being created in front of me. It was too much of a risk to even take my eyes off the stage for one millisecond and see a glimpse of what my camera was taking. The lights on stage were almost blinding, but were always pointed flawlessly on the singer. Flashes from cameras and cell phones twinkled like stars in the night. They brightened the arena exposing the number of people in it, while the sources of light also made the stage its focal point as each one flickered around it. My heart felt like it was about to explode as it pounded heavily and loudly, but it was no comparison to the noises that surrounded me.

I was engulfed with sound. As the artist sang, her words were thrown right back at her. The lyrics of every song were sung precisely by her myriad of fans. The various instruments played made it ever more deafening, but it was not a bad sound. It was hypnotic, almost calm for my ears. Rambunctious shouts of laughter and excitement came from every direction, but all that I was focused on was the beautiful music. The guitars and drums worked together to make a harmonious vibration that travelled all the way to wear I stood. The stage was pumped with an energy of heavenly beats. My ears were dancing with it. There was nothing that could have broken that connection with me and the magic that was the music. Not the crowd, nor its rhythmic screams.

The stage was calling me. Its speakers were blasting at maximum. They were trying to tell me a message with its high voltage quakes. The instruments on stage were doing the same. As each note was played, something inside me was dying to speak out. My ears struggled as it attempted to listen closely, but it was no use. The drums shook and rumbled as it tried to give me hints with each strike of itself. Their beats were getting stronger and more powerful. The guitars were strummed perfectly along with the banjo and the violin. The rhythm grew faster acting like a panic attack. I heard each one of them, but nothing really came to me. They were all unified, working together to conjure up something colossal. Something was about to happen, something breathtaking.

The smell of electricity filled my nostrils. First, it was of the electric guitar on stage. It gave off a distinct aromatic charge that enticed the audience. I surely wanted more. The music was my drug, and I was hooked. As the stage thundered, I roared back with the power of my voice. There was suddenly a feel of shock from person to person all around the stage as the stage itself turned dark. It was a peculiar kind of darkness. The kind that amazed people rather than scared as if it were to light up and show us an extraordinary sight. I could sense the excitement in the air. My breathing was heavy. I had no idea what to expect or what the stage had in store for me. The lights unexpectedly flashed, and it soon turned monstrous. It was as if I stopped breathing for just a second as darkness turned to light, and the crimson red curtains revealed a beautiful castle. I was utterly captivated.

The stage had given all it had and I was satisfied. From its energy to its sound, I absorbed it all. My senses were thrown in a whirlwind as I tried to soak up every last beat, every last laugh, every last piece of music. Nothing was left unfelt or untouched. The smells, the sights, and the sounds had an essence, full of mystical beauties. They had a special presence to them. A presence that will always stick in my mind. Never in my days will I forget this magical experience of a Taylor Swift concert.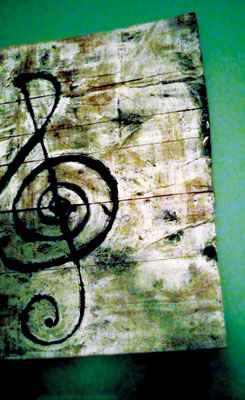 © Olivia K., Canton, OH