Your Guardian Angel
MAG
January 25, 2010
"I will never let you fall. I'll stand up with you forever."

As the lead vocalist belted out these lyrics, a sense of security came over me. I wondered if the moment could get any better. It felt like those words were about our lives.

"I'll be there for you through it all, even if saving you sends me to heaven."

As he stood behind me, I had no cares in the world. His body was pressed against mine, along with 300 other fans pushing us closer and closer together. The nails in the plywood along the stage were tearing into my jeans, but I refused to complain. I was so close to these strangers that it felt like I could sense a million heartbeats pounding as the earsplitting guitars continued to play our favorite songs.

"Seasons are changing, and waves are crashing. Stars are falling all for us."

My body was burning up, and the nauseating smell of sweat pouring off everyone was overwhelming. It wasn't a place that you would normally find pleasant, but for some reason I did. The bass speakers blared and my heart pumped in sync with the beat. People were soaring over us onto the stage, but I wasn't scared. It was like we were the waves for them to glide upon, guiding each one to shore.

"Days grow longer, and nights grow shorter. I can show you I'll be the one."

My hand clenched his tightly as we screamed the lyrics to our ballad. The song was ending, but it felt like time had stopped. The vocals faded out and the guitarist, a tall, dark-haired man directly above us on stage, strummed his guitar one last time then reached out to give the audience his pick. The crowd pressed in. As I tried to grasp his hand, I kept slipping. We were all going for the same prize. I needed it to remember this moment. His beautiful eyes, gleaming in the spotlights, looked right into mine, as if he could sense what I was feeling. He wouldn't let go until he was sure it was in my hands.

"'Cause I'm here for you. Please don't walk away, and please tell me you'll stay."

It was over. I had wanted it to go on forever. All that was left around the stage were empty water bottles and wandering fans. My skin felt cold and damp as I realized the T-shirt and skinny jeans I was wearing were drenched in sweat from me and everyone around me.

I dug into my pockets to pay for a band T-shirt and discovered they were empty. Someone in the crowd must have taken my cash. I turned away from him to scream my frustration. When I turned back, he surprised me with the shirt I had raved about since we had stepped into the venue. Everything seemed just right. I thought there was nothing stopping us now.

"Use me as you will. Pull my strings just for a thrill, and I know I'll be okay, though my skies are turning gray."

That night was one of the best of my life. I felt at peace. All was going the way I wanted, for once. But just as that feeling began, it ended. Everything between us was changing, and there was no way I could stop it. My skies were turning gray, but I told myself that this was how it was meant to be. No matter what has happened since that night, I will always remember that moment when I listen to "Your Guardian Angel" by the Red Jumpsuit Apparatus. I knew I would be okay, just like the lyrics to our song.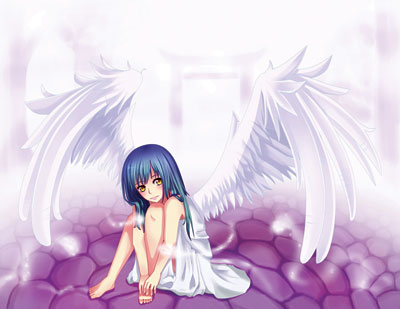 © Amanda L., Albuquerque, NM