Changing Leaves
MAG
It was the ideal relationship, or at least that was what everyone thought, including me. It was the kind that other people looked at and sighed.

I thought that you and I were perfect for each other; you were the one I had been searching for. You were sweet, kind, and understanding, but most importantly, you really loved me and nothing I did seemed to change that. We never fought, and we could talk for hours about whatever was on our minds, or just be there for each other, saying nothing at all. You always let me choose where we went and what we did, concerned only with making me happy. I will never forget how you always said what I needed to hear, and I still have some of your most touching quotes. But now, a day we spent together in early October stands out, and I realize that the perfection was false.

You remember the story. We walked to that park, as we always did, at a leisurely pace, enjoying each other's company. Perhaps you recall how sharp the air was. It was the season after summer and before winter when denying the coming chill is still possible. I was comfortable in my sweatshirt, but your hand was cold in mine.

The leaves in the park were just starting to turn - the moment before death when they appear the most alive. As we sat on "our" bench, I paused to point out how good life was and how lucky we were. I considered us blessed to be able to enjoy such a lovely day.

"Isn't it beautiful?" I said with the grin that I get when I talk about what a privilege it is to be alive.

You replied with disinterest, "Yeah, it is," but you weren't looking at the trees; you were looking at me. You didn't understand my joy at the small things in life. Reflecting on that day, it is very clear how your love kept you from knowing me, but I can only wonder whether the same was true for me.

Regardless, we enjoyed the park until I became restless with inaction. I found a route down to the water, and you followed, too cautiously, as I bounded with reckless enthusiasm down the small hill. True to my nature, I was wearing flip-flops; I left them by the bench, eager to experience life fully, without shoes between me and the earth. True to your nature, you were wearing Converse All-Stars, and you wore them to the edge of the water, hesitant to go even that far.

I waded in the caves that the outcropping made. Little spurts of water trickled down the rocks, and although all I said was, "Hey, cool!" I secretly wished you would come and see them instead of staying dry. I climbed the rocks by the waterfall and you did too - carefully. You stood at the top while I climbed down the rocks, hazardously close to falling into the large waterfall. There was a look of trepidation on your face, and I wondered whether you were scared for me or appalled by my conduct. You stood there and warned me to be careful.

I almost slipped on the rocks at the bottom of the river a few times as I made my way through the water to touch the waterfall. Elated by the small risk I was taking and by the cold water freezing my feet, I looked at you, wanting you to share in my triumph as my fingers brushed the falling water. But you did not understand my wild desire to be different and my enthusiasm for the beauty of the world. Mostly, you didn't understand my need to live every moment in the biggest, best way I could. By the time I got to the waterfall, my jeans were wet with spray, and my toes were numb.

I think that was the day I subconsciously knew that we didn't have a future together. You didn't want to embrace who I was; you only loved who you thought I was. You were afraid to move out of your comfort zone. I wanted someone to explore with me - unknown places, as well as uncomfortable ideas. You were along for the ride, happy to follow wherever I led, or to be a quiet bystander. That day became a symbol for me; our differences were like summer and winter.

I stepped out of the water and we climbed back up the rocks. I stayed outside the railing and held your hands, standing on the edge of the rock with my back to you, toes hanging over the water. The scene was not unlike the famous one in "Titanic," but I didn't feel like I was flying. As we left, I felt an odd sense of loss. I knew something had changed, but I was still blind to it. I wasn't ready to turn you and the park into a memory.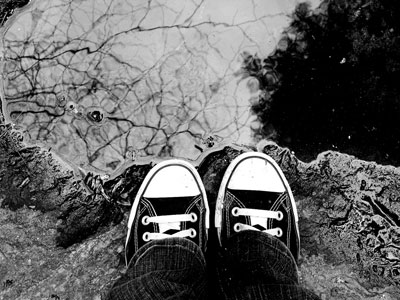 © Michelle B., Blairsville, GA