Pull Me Under
December 4, 2009
I had never been so scared in my entire life. Death was something that I had never thought of, but at age nine I got an up-close and personal experience of the fallout of what caving to peer pressure can do. It was something that changed my life and will never be forgotten.

Gleneagles is a very large neighborhood at the end of Hanna Road and it is where I called home for the first 11 years of my life. I lived with my brother, Nick, who is 20 months older than me. We had a daily routine of going to school and racing home to see who could get out into the cul-de-sac first. However, we were not the only kids in the neighborhood to do this. There were about five other elementary school kids that would join us day after day. Strong friendships were formed quickly and daily games of hockey, baseball, basketball and any competitive event you can think of broke out; they would last until the shine of the white wiffleball could not even be seen because of the darkness. I was always the youngest, so I looked up to all of the boys like big brothers. At the time I had no idea that the same kids I was playing with would turn out to be, an all-state golfer, soccer state champion, and highly recruited hockey star. The way I talked about them you would think I was friends with Tiger Woods, Wayne Rooney and Brett Hull. I would go to the end of the Earth to impress them and when one of the boys, Tanner, invited me to his birthday party I was filled with excitement yet frightened at the same time. It was as if I was in the state championship with two seconds left and coach leans to you and demands, "You're in". I sprinted home like I was being chased by a semi truck. I got down on my knees and prayed to my mom like a god to allow me to attend the party. After hours of chores and a few dozen tears, she finally allowed it.

The day of the party finally came. I was so excited that I wouldn't even eat breakfast. The plan was to meet at Tanner's house at 10 and then his parents would drive everyone to the party, of which the destination was still a secret. All we knew was that we needed to bring swimming trunks. Unfortunately I couldn't put two and two together at that age and realize where we were going. On the car ride to the party, my knees were shaking like a cell phone set on vibration. As the destination became visible it was if someone took a strangle to my excitement; it immediately became fear. My knees were still shaking as a walked in under the sign reading "The Pointe", but this time they were shaking for a different reason. The Pointe is an indoor pool facility that is every kids dream. Well, what no one knew about me was that I didn't know how to swim. Without hesitation my friends began jumping in, smiling like it was Christmas morning. I didn't want to tell these people I idolized that I couldn't swim. I feared that they would see me as a loser and no longer be my friends.
I weaseled my way off to the side and took a seat on one of the benches. That lasted about 15 seconds; my friends noticed and the badgering began. "Get in you baby," was yelled over and over. I was stuck in a terrible situation: either admit to my friends I can't swim and risk losing them as friends, or get in and hope for the best. Maybe if I would just sit there they would forget about me and it would blow over. After 15 minutes they were starting to get angry and were beginning to throw things at me and demanding that I get in. The pressure was starting to be too much to overcome, and finally I heard the last straw. "I knew we shouldn't have invited you!" peer pressure had overcome me. I took my shirt off and began to climb down to ladder and was able to touch to bottom of the pool with the water only coming up my chest. A huge weight was lifted off my shoulders and I began playing with my friends as if I was Michael Phelps. Without realizing it, after about five minutes I was neck deep in water. Tanner then threw a ball toward me, hinting he wanted to play catch. The ball skipped about three feet past me and I turned to retrieve it. At that second the pool opened up its mouth and swallowed me whole. I had ventured into the deep end.
Kicking and screaming while not making a noise under water was what I remembered most. At that moment, under water, I told myself that I would never let myself fall to peer pressure ever again, that is, if I lived. My friends were under the impression that I knew how to swim, so they just thought I was playing a joke or something. Three minutes seemed like the time that I spent underwater, 30 seconds realistically, until finally a straying parent jumped in and lifted me up and saved me from the wrath of the water. When I realized where I was and what was going on at the side of the pool, I didn't care if my friends knew I didn't know how to swim. I didn't even care if they stopped being my friends because of it. But they were right there, seeing how I was, and they remained for the next five years of my life until high school forced us to say out goodbyes.

Peer pressure can force you to do many crazy things that could end up having catastrophic consequences. Luckily for me I learned at a young age not to care what people say and to not be ashamed of who you are. And to this day I say with pride that I still don't know how to swim.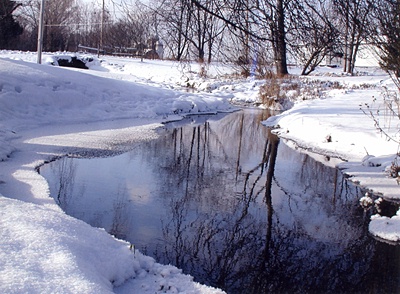 © Alex B., Rome, NY